';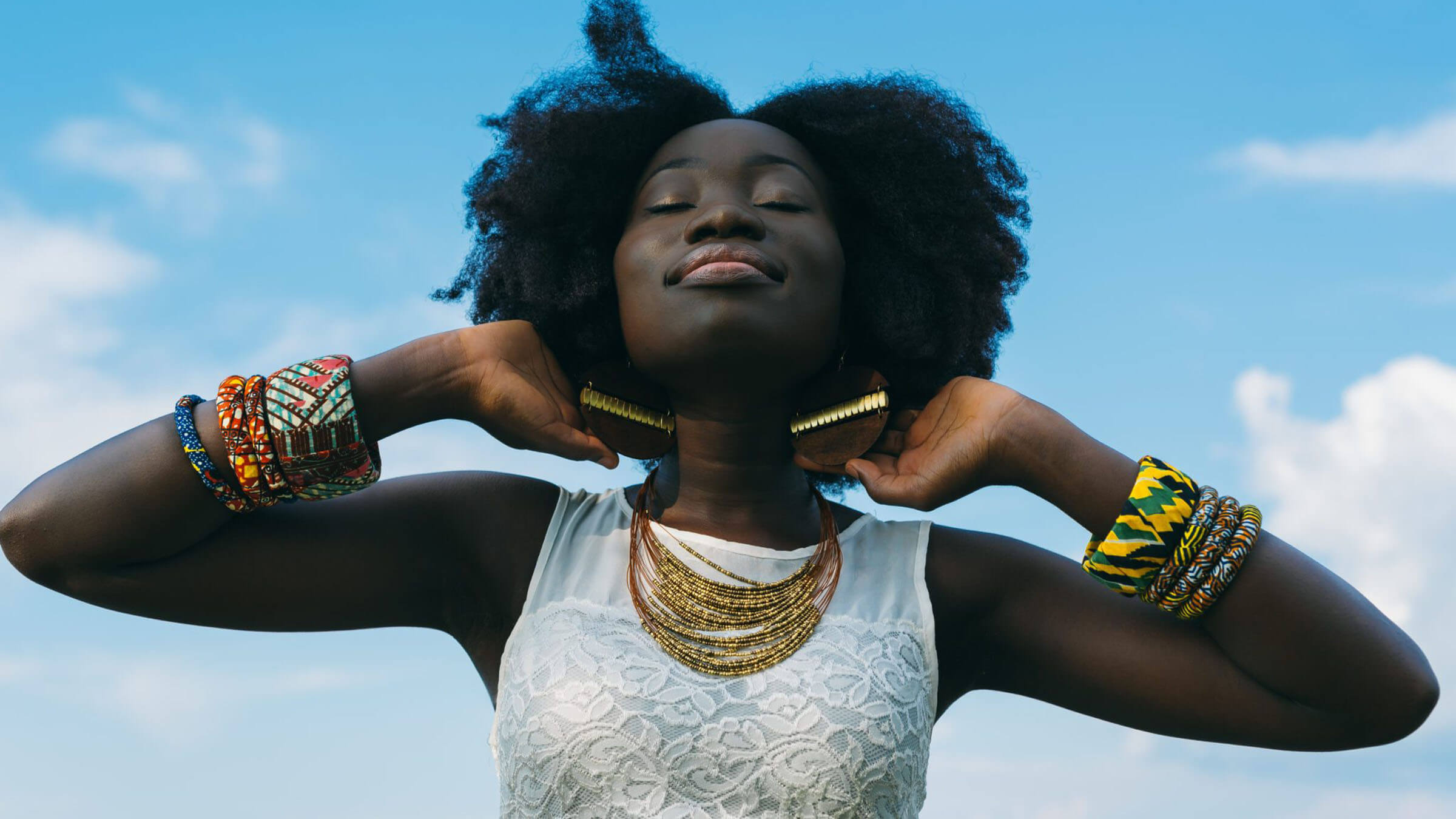 The unsung heroes of many a great get-up: accessories have the power to turn a lacklustre look into a capital-O Outfit. Gone are the days of tiny trinkets that fade into the background. This season, maximalism is back in full force, and bold baroque styles are taking over – from oversized belt buckles to larger-than-life earrings, rings, bags and headbands. Dare to wear these audacious accessories because right now, more is more.
Your Crowning Glory
So far, 2019 has been the year of hair accessories, where clips, barrettes and decorative pins are the stars, returning triumphantly from the '90s to give your hair the spotlight. This trend quickly jumped from the Chanel and Dior catwalks to high street stores, in the form of huge barrettes that adorn one side of the head. Retro pins embellished with logos or words, pearls and pearlescent accents are the most beloved of the moment. Perfect for making a head-to-toe style statement.
Yas Queen 
We saw them on the catwalks of Prada, Miu Miu and Dolce & Gabbana: headbands that might as well be tiaras – from simple designs with appliqués and rhinestones, to opulent creations with pearls and gems worthy of an Arabian queen. Who said maximalism was outdated?
Lend Me Your Ear 
Just one look at your Instagram feed will reveal that extra-long earrings are the jewellery du jour of fashion influencers. Whether with feathers, tassels, fringes or beads, the most beloved styles are often handcrafted pieces or ones with geometric shapes that frame the neck and face. You'll find options for every taste from big brands and small boutiques, as well as talented independent designers who shine with their unique creations. Try, for example, a pair by Mercedes Salazar, a top Latin American designer whose XXL earrings are turning heads.
Prettify Your Paws
For your autumn look to succeed this year, you'll need to put a few flashy rings on your fingers – and you don't need a man to do so. Although the popular geometric styles are beautiful and very modern, shake things up this season with rings featuring giant stones and animal figures, like snakes, ants, frogs, beetles, seahorses, turtles and even octopuses.
Big, Bold Bags
While small handbags are lovely and lend an air of sophistication to any outfit, there's nothing more practical than an extra-large bag that can carry everything you need throughout your day. This season, the trends are on our side in the form of maxi bags that are made for those days when you have to have to go-go-go from morning to night. Grab one embellished with pearls or stones to embody the maximalist style of Dolce & Gabbana.
That's A Wrap 
No matter how simple the outfit, a scarf, turban or headwrap will do all the styling work for you. This age-old accessory has experienced a rebirth recently, thanks to new designs from both fashion firms and cultural communities seeking to pay homage to their heritage. Although rather large, and perhaps a bit intimidating, a well-worn headwrap has the power to make the wearer shine – just be sure to wear it with the respect it deserves. Find our tips here.
Off The Chain 
Thin chains with a single teensy-weensy charm are totally old-fashioned – today's necklaces are large and in charge. Go for thick chokers, chunky chains and striking accent pieces, best worn with basic sweaters and delicate blouses to create a contrast. Check out independent brands like Lina Echeverry or Laura Lombardi.
It's A Cinch 
Suits are back this season, and with them the belts that give you that extra-feminine oomph. Wear them over blazers, with high-waisted trousers or over shirt dresses, but when you do, make sure they're larger than life: opt for an XXL version with a thick silhouette or giant buckle, especially with an oversized logo. Big ties and bulky chains are also on trend, as observed in the catwalk collections of Givenchy and Prabal Gurung.
Be A Pearl Girl 
An exquisite vintage touch to revitalise any outfit, pearls have conquered both catwalks and sidewalks recently. This year we're seeing them everywhere from necklaces to hair barrettes, headbands, bracelets and belts – and of course it goes without saying: the bigger the better!
Dare To Fascinate 
Throw what you know out the window: fascinators aren't just for royal events, and hair chains aren't the exclusive prerogative of brides. Want to wear a feathered fascinator or sparkling hair chain to brunch with friends? Be our guest. The key here is to balance it with the colours, textures and overall tone of your outfit; a fascinator will dress up a cute top and jeans, while a hair chain paired with a structured dress will lend your look a boho-chic vibe.
A Sight To See 
Glasses aren't just for seeing anymore – they're also for being seen. A great pair of glasses or sunglasses can really make a difference in your look, playing up the glamour or adding an element of sophistication. You'll find styles for every taste out there – and you'll want to pay attention to face shape as well – but at the moment, anything vintage or '70s inspired will be a hit. Square glasses are also having a moment, ideally with big frames in bright colours, and so are giant lenses so large that they cover a good bit of the face. When it comes to sunglasses, the mirrored effect is the way to go.