';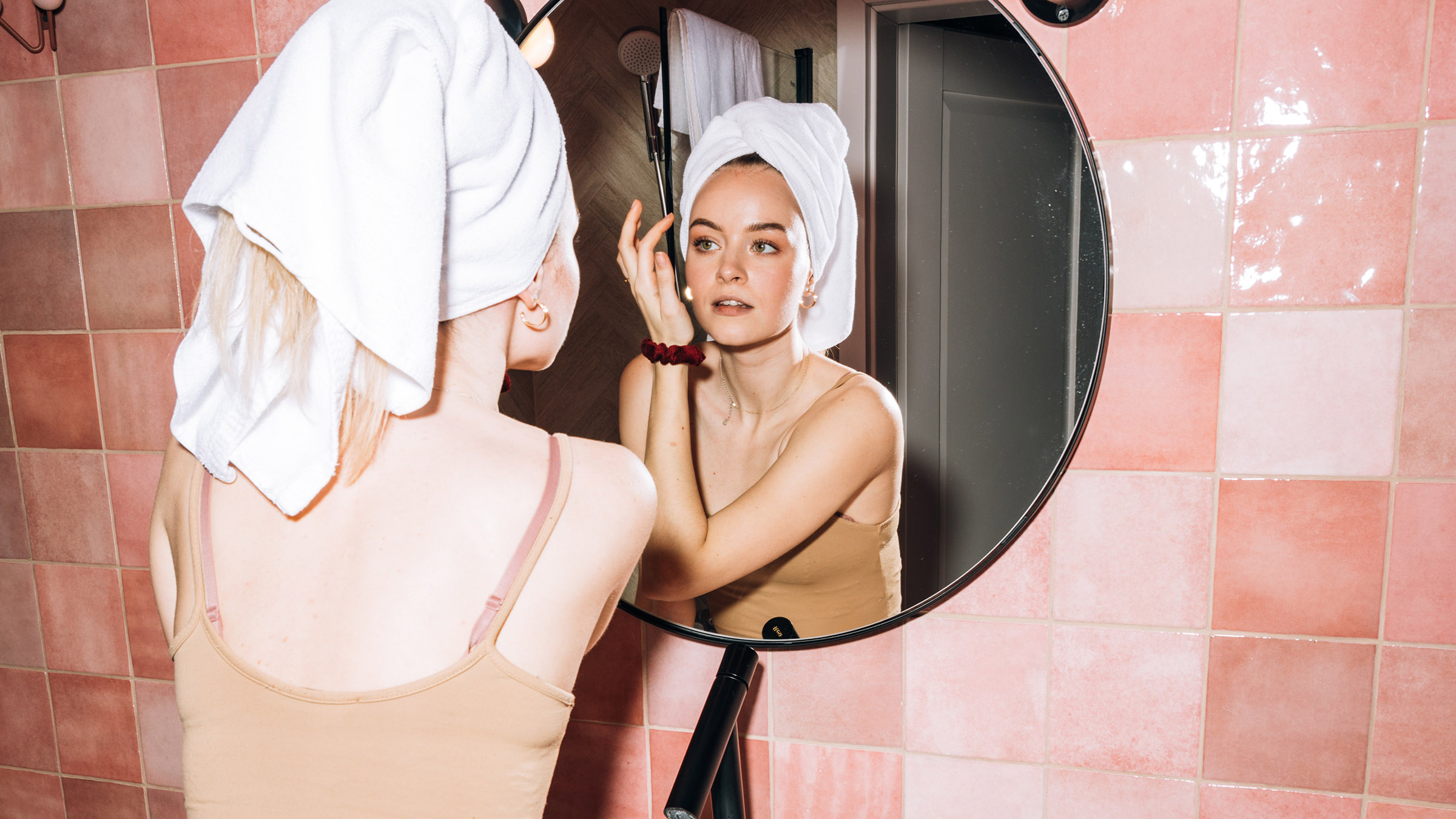 We all have days – even weeks or months – where we feel less than spectacular about ourselves. It's normal, of course, but nobody wants to stay stuck in a funk like that for long. Luckily for anyone suffering from the beauty blues, we've sourced the best tips and tricks around that will help bring just about any gloomy thoughts to a halt. From vibrant make-up colours to an enhanced skincare routine and feel-good fragrances – read on to find out how you can positively impact your mood through a few very simple and fashionable steps.
Fragrant Locks
Whoever said fragrances are only meant for your skin? An enjoyable scent is always a nice extra touch, and if you manage to find the one, it might even have a therapeutic effect. A nice tip to keep you refreshed and delightfully fragrant throughout the day? Pay attention to your hair! Whether you're more into clean, crisp scents, sweet florals or a comforting musk, the right hair products can lift your spirits and keep you feeling invigorated. Whether that's your favourite shampoo and conditioner set, a leave-in conditioner to soften your tresses, or just some nice oil or hair mist, aromatic hair care might be the major step missing from your pampering routine. Next time you're feeling a bit 'meh', try spritzing or massaging in some fragrant hair essentials for an instant mood boost. 
Blush It Up
There's a reason your mother is always raving about how blush makes you look 'alive'. Heed her words and try adding a touch of colour to the apples of your cheeks next time you want to give your complexion a bit more life. With all sorts of blush products available, from creams to powders, you won't have trouble finding the perfect shade and texture for your skin. Once you do, it'll become a step you'll never want to skip in your routine. Something to keep in mind? Peachy tones usually fit warmer seasons, while cool mauves or deep reds are better suited to chilly autumn and winter days. However, when you find a tone that flatters you perfectly, don't hesitate to use it no matter the time of year. We're currently obsessed with this highly popular and long-lasting Rare Beauty Soft Pinch blush.
Skin-ergise Your Face
Few things can make you feel as confident as feeling good in your skin – literally. If you've already got your trusted skincare routine down, you might not want to go out and try new, possibly irritating products, but it's always fun to give yourself a little extra something. That's why a face mask can be a safe, non-committal yet totally worthwhile addition to your weekly pampering sessions. Time-saving, budget-friendly, efficient and fun, a skin-energising face mask is perfect for when you're in need of some extra care but can't make it to the spa. Working from home (with the camera off, of course)? Sheet mask while you draft those spreadsheets. Having an exciting night out? Your favourite mask will have your make-up feeling and looking better – and lasting longer. Just need a pick-me-up? You got it.  
A Matter Of Scents
Sometimes, freshening up is as simple as misting your perfume. Few things feel as luxurious as spritzing your favourite scent on after a long, hot bath. Except perhaps retouching it throughout the day to feel extra amazing! For additional feel-good vibes, we advise you to opt for 'cleaner', more refreshing aromas. A couple of great options include the Jo Malone London Nectarine Blossom & Honey cologne, as well as classics like Chloé's Love Story and Marc Jacobs' Daisy. I you can allow yourself to unabashedly splurge on perfume, however, make sure to check out Le Labo's Rose 31 Eau de Parfum or Tom Ford's Soleil Blanc. You won't regret it.
Pressing Issues
Had a few rough nights? Lymphatic drainage massaging on the face can help stimulate blood circulation, reduce swelling and puffiness, and improve the overall look and feel of your skin. If you'd like to reap its benefits, there are a couple of tools you can employ at home, though you can also just use your hands. The most important thing to consider is to be gentle and avoid applying too much pressure – overworking your skin can actually result in the opposite of the desired effect, meaning more swelling and puffiness. Perform as often as desired, and be consistent if you want to see truly incredible results. It's also always a good idea to consult with your dermatologist or licensed aesthetician if you have any particular skin concerns or sensitivities.
Dress For Dopamine
Neutral hues might be easier to coordinate, but there's truly nothing like adding a pop of colour to really lift your mood – especially on gloomy, rainy days when leaving the cosiness of your bed for work or errands feels like torture. Try opting for vibrant tones like yellow, orange, hot pink or all sorts of neon when your outfit feels less than ordinary, or just isn't making you feel on top of the world. Trust us, it will be an instant emotional high. For some inspo, check out this neon green high-neck dress, or this work-friendly hot pink blazer.
Fluff It Out
Now, while bright colours are a sure way to elevate your mood, there's another somewhat overlooked fashion trick that can achieve the same effect: pay closer attention to – and reach for – textures and fabrics that make you feel particularly good. Whether that's smooth velvets, silky satins, fluffy cashmere or light natural fibres like cotton, that's a personal matter. Just think about how it feels to snuggle up in your favourite winter sweater or airy summer dress – that's the power of fabrics. Choosing clothing that feels good against your skin, that fits well and is appropriate for both weather and occasion is important for your overall mood. Take a look at the pieces of clothing already hanging in your closet, and try experimenting with different textures to figure out which ones that make you feel your best. Some fabrics that might surprise you include fleece, flannel and linen, so don't automatically count those out.