';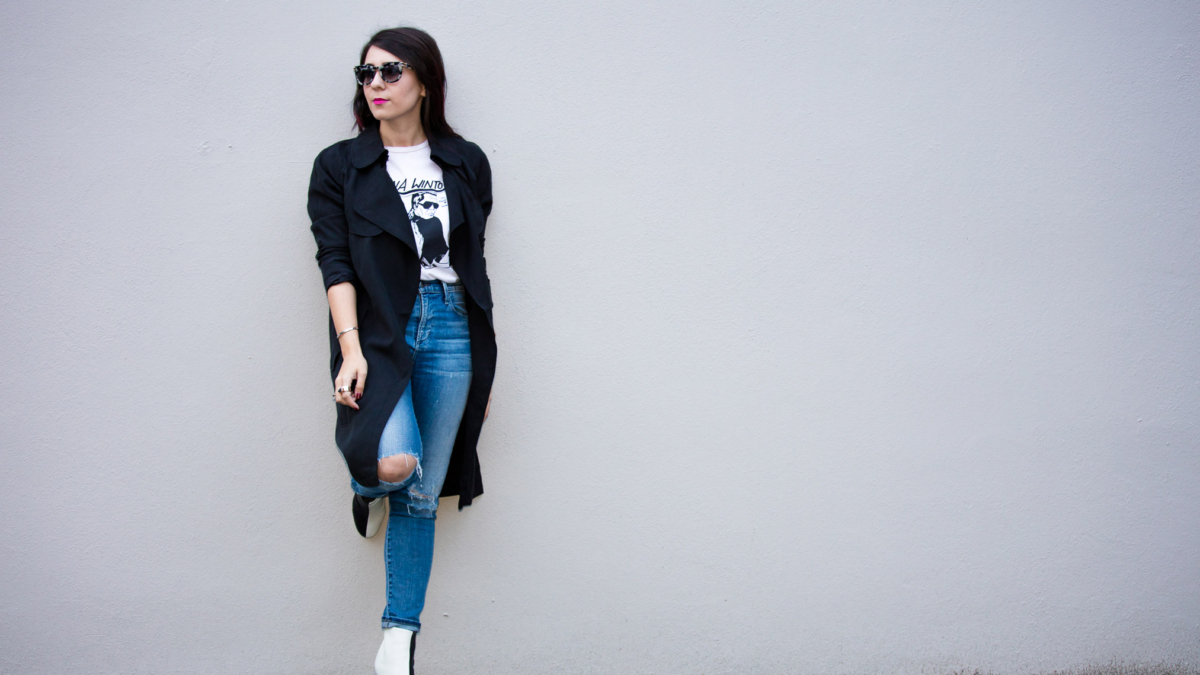 ;
On their Canadian-based site streetscout.me, fashion blogger Sabrina Fenster and her husband Jeremy form a formidable duo of snazzy prose and a keen lens, respectively. They can be found pounding the pavement in Montreal, Toronto, and most often, Vancouver, on the lookout for rising trends and original styes. Here, Sabrina fills us in on life as a blogger, plus the best ways to keep warm and look smart when the mercury drops.
What were you just thinking about?
I was just thinking about how much I'm obsessed with my new fall booties. They are all shades of brown in leather and suede and they're the perfect addition to my fall/winter wardrobe!
My go-to shoe for this season will be my new brown leather and suede booties from Ella Shoes. They go perfectly with a little dress and tights or a skinny pair of jeans. I'm in love!
Do you blog to live or live to blog?
We live to blog! While our blog is a business of its own, we started it as a passion project and we still treat it as such. In fact, if we weren't passionate about blogging, we would have given up a long time ago. I love how much blogging allows me to express myself and find new ways to be creative. There's never a dull moment in blogging.
What do you think makes StreetScout.Me stand out from the crowd?
I think StreetScoutMe stands out from the crowd because there are very few people committed to covering the street style consistently in Canada. We also stand out because we're a husband and wife duo. While I have a few favourite blogger couples, there really aren't many of us.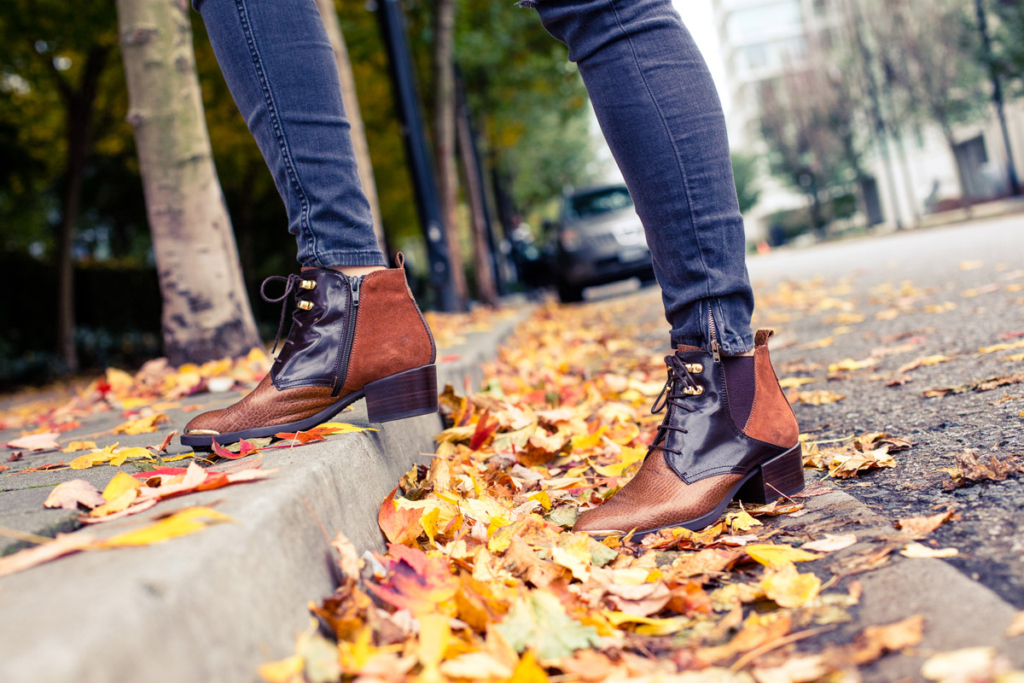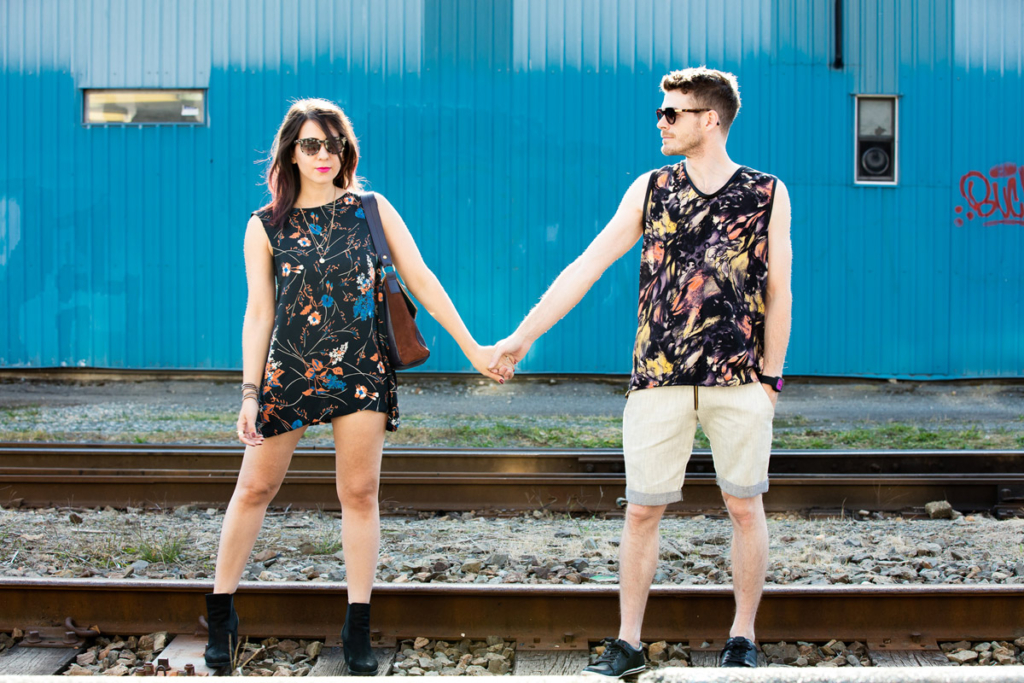 What kind of responses to your site have most pleased and most surprised you?
What pleases us most is that our readers are so excited to be scouted and photographed by us. We're always surprised at how much people want their photos taken and how positively they react to seeing themselves featured on our site.
What are your plans to develop the StreetScout.Me concept further?
Our plans are to expand beyond Canadian street style coverage. We just came back from New York Fashion Week and have decided we'll make a big trip out for fashion week every year (either New York, London, or Paris). Big trips like this really help to expand our audience and also give our current readers something fresh and exciting to peruse through.
Canadian Fashion/Your Winter Style:
Is there such a thing as a national Canadian sense of style, or is it a very local thing depending on where you live?
I think it's a very local thing because it depends entirely on the weather and lifestyle. Vancouver, for example, is mild all year, so we don't have to worry about dressing for extreme temperatures. It's also a very outdoorsy city and the fashion is reflected in that lifestyle. This is in stark contrast to cities like Montreal where the temperatures are extreme and there's a bigger focus on culture over nature. Each city in Canada has its own unique sense of style.
Your site scouts the trends in Montreal, Toronto and Vancouver, what most appeals to you about the sense of style in each of those locations?
Montreal is the city that inspired us to start our blog, so I definitely have a soft spot for it. It's the closest you'll get to Europe in Canada and I love that people just have that je ne sais quoi when they walk down the streets. The city is filled with artists and creatives, which is very much reflected in the street fashion scene. Vancouver is a very laidback and outdoorsy city. This way of life is very much reflected in our style choices. We love street scouting people here that find creative ways to work in casual trends and pull off that 'effortless chic' look. Toronto has more of a cosmopolitan feel and probably the most on-trend as far as fashion goes in Canada.
How is Canadian fashion influenced by the extremes in your climate? How hard is it to project a sense of style in winter, while balancing fashion and practicality?
It's very hard to stay stylish and warm in the colder parts of Canada. The only way to balance fashion and practicality in the colder temps is by layering up like crazy. Layers allow you to warm up and cool down as need be and are the Canadian go-to when it comes to striking the balance between fashion and functionality.
The climate in Vancouver is mild year round, so even at its coldest we can get away with lighter layers, like leather jackets, scarves and knits.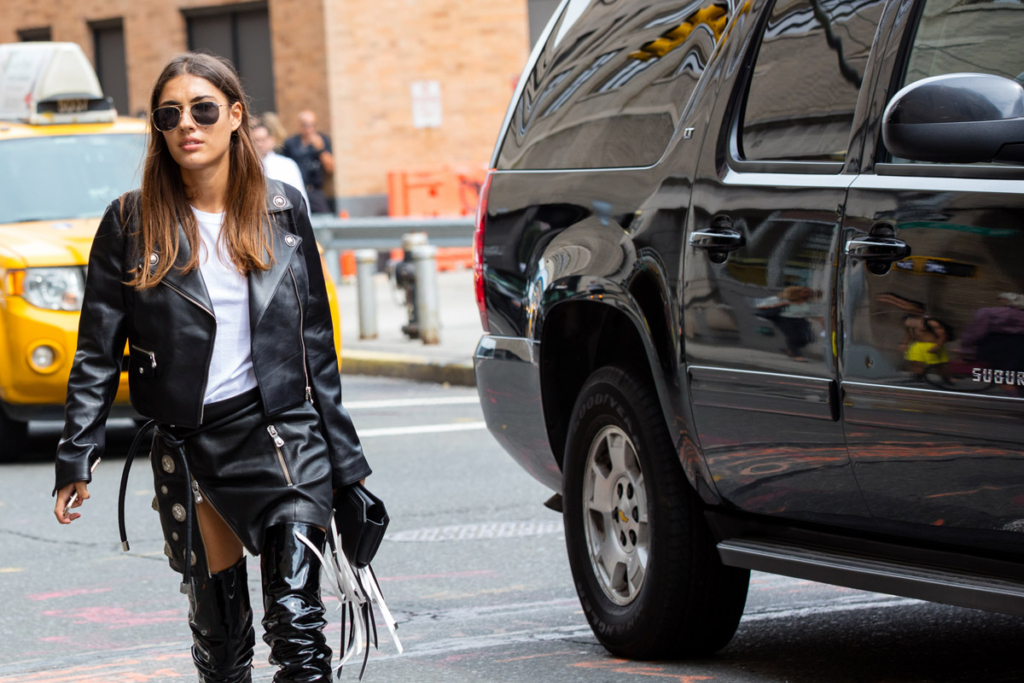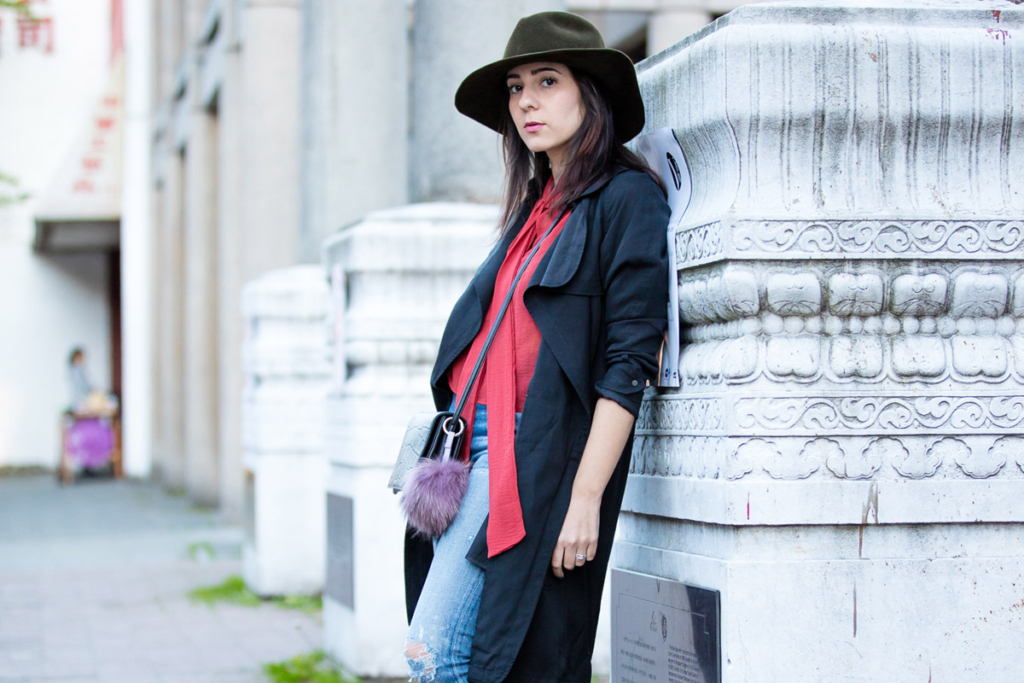 What is your planned winter hat/headwear of choice for this season and why?
I'm in love with my new wide brim hat from Simons. It's an olive green colour with silver detail on the strap, which gives it that little extra something.
It's tempting to buy scarves, caps/earmuffs and gloves in matching sets, but it can often be a matchy-matchy style faux pas. What's your secret to keeping winter accessories complementary, but cool?
I'm a big fan of buying staples that aren't overly trendy. They're the building blocks of an outfit, so it's important to keep them clean. I do, however, look for accessories that have a little added interest. It's all about the details.
Faux fur – yes or no?
Yes! I love a little faux fur. This season I'm obsessing over little purse charms and pom-poms. This is the perfect way to rock the faux fur trend.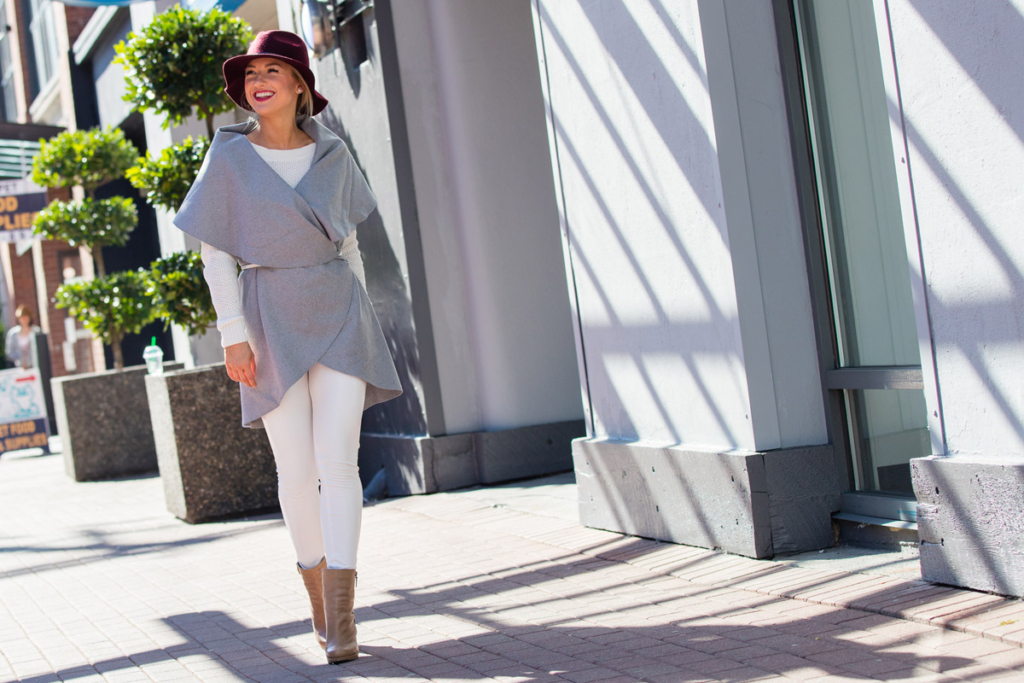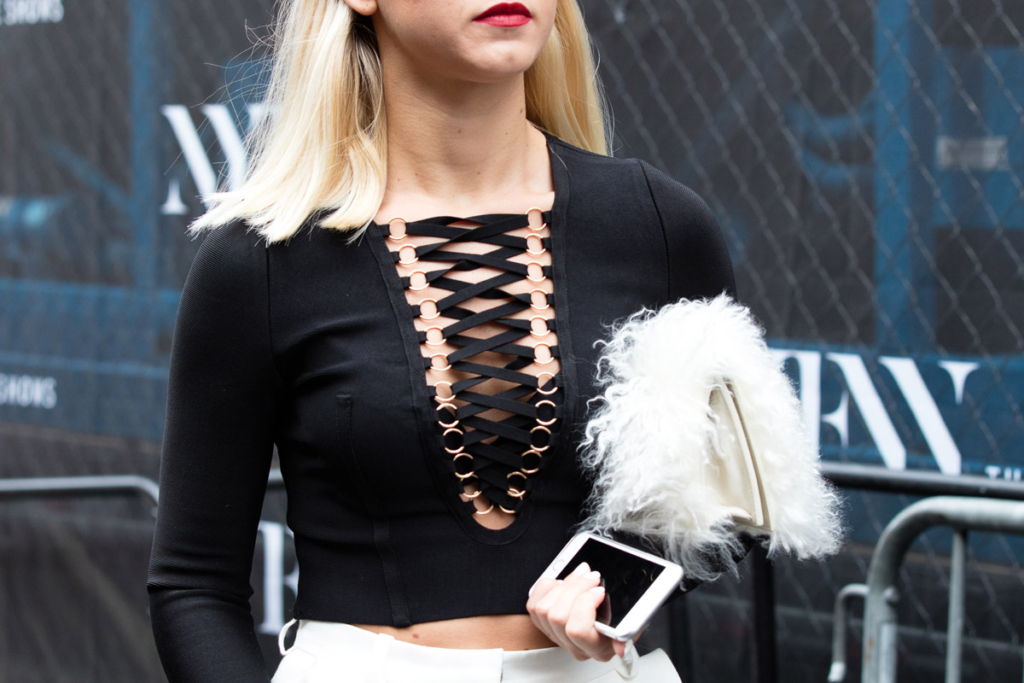 Describe the typical outfit you would wear on a chilly day to stay stylish and cosy.
My fall uniform consists of a sweater, duster coat, scarf, skinny jeans, booties, and wide brim hat. The duster coat is a great fall must-have because it makes your whole look very streamlined. I'll definitely be replacing it with a warmer long line coat for winter.
One last tip: what one winter fashion item in your wardrobe could you not do without?
The one winter fashion item I can't live without is my blanket scarf from Aritzia. It's an investment piece that I make sure I have every winter. I'm pretty sure Aritzia has everyone in Canada covered (literally) in their scarves and for good reason! They're super-chunky and warm and are great if you need to bundle up quick or stay cosy in an air-conditioned office.
Article by Gail Wilcoxen
Jeremy and Sabrina are the dynamic husband and wife duo behind Vancouver-based street fashion and style blog, StreetScoutMe. They believe the best fashion show is on the streets and will always be the most relevant way to discover trends. Follow along as they share the best trends from the streets, PLUS a few of their own. Visit streetscout.me
Have you ever been tempted to create your own blog?