';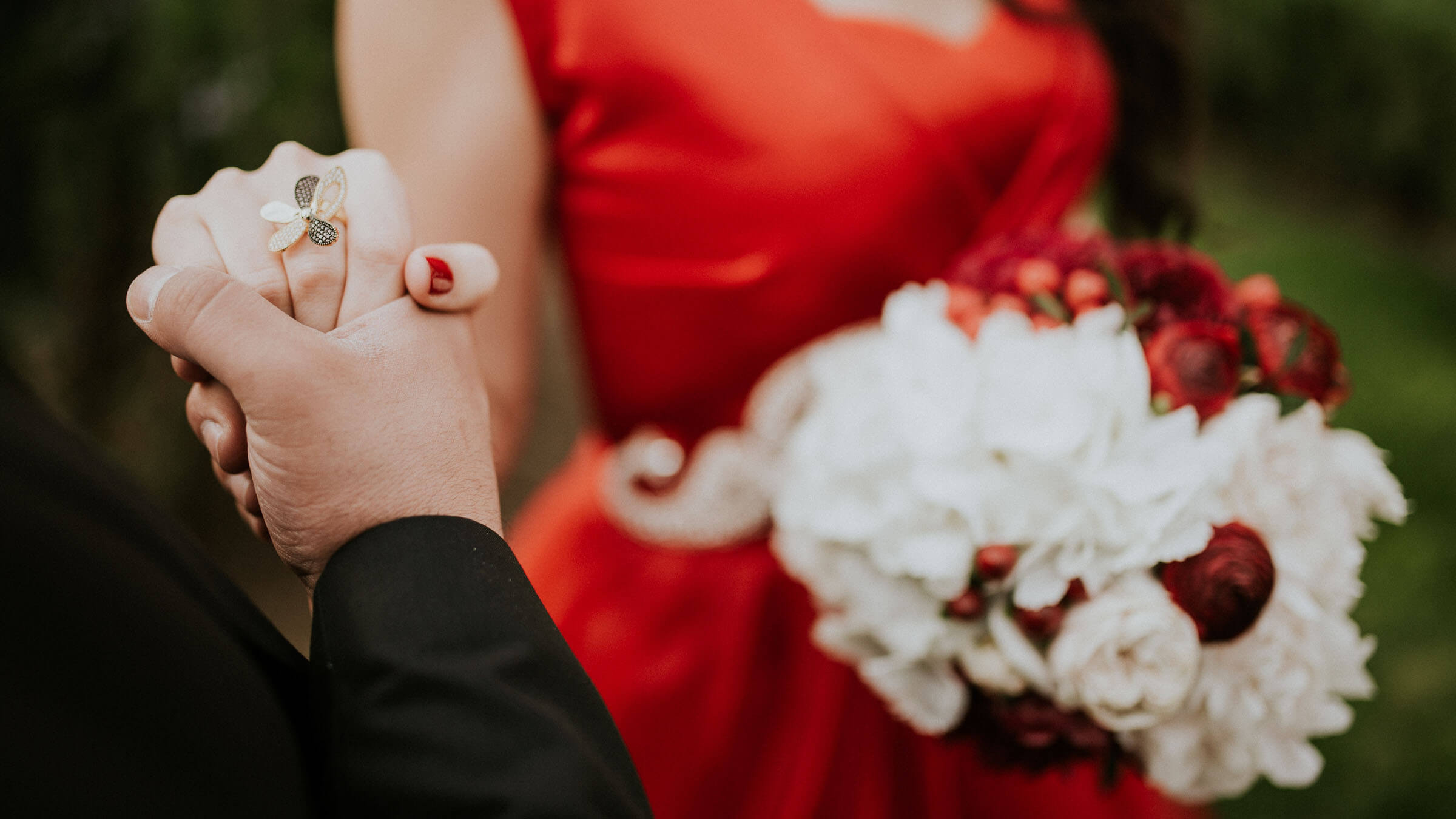 Wearing white on your wedding day? Groundbreaking.
Perhaps instead of following the prescribed path with your altar attire, consider what more and more brides and grooms are doing: parting from the Western tradition of pairing a white gown with a black tux, in favour of more unique styles that show off a little personal flare.
"The trend these days is more out-of-the-box," says Nara Ragimov, manager of Bergdorf Goodman's Bridal Salon in New York City. "Brides are leaning towards wedding looks that are a reflection of their individual style – everything from adding subtle touches like gold-embroidered accents to choosing a non-traditional colour, such as blush or champagne, and even light blue or multicolour."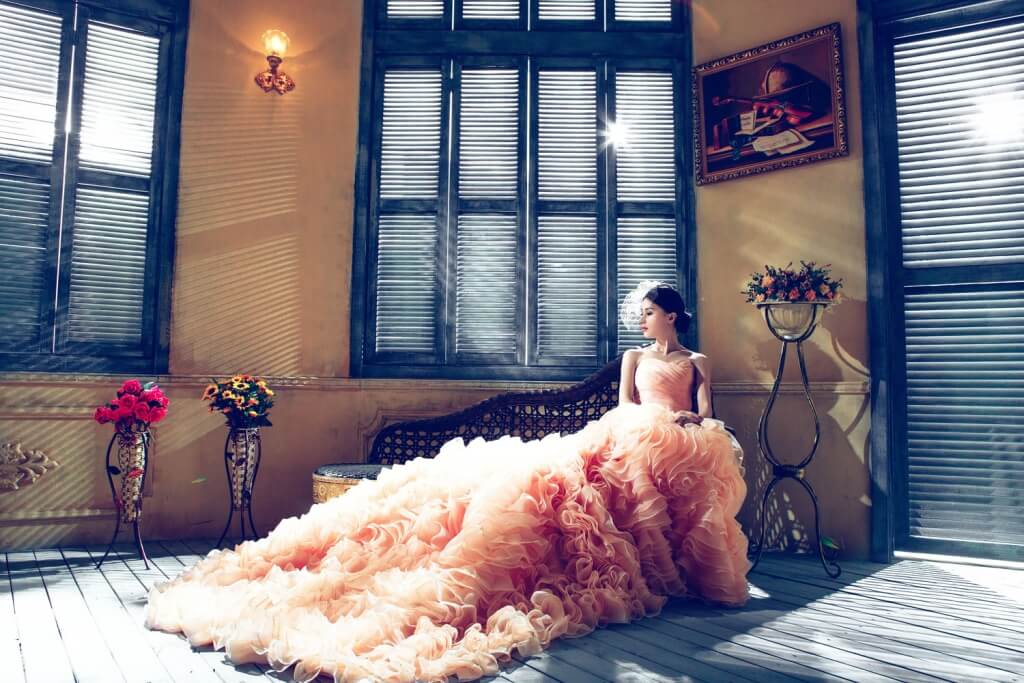 A vibrant wedding dress is nothing new: Chinese brides have traditionally worn red dresses for millennia; Indian brides wear embellished, brightly hued wedding outfits, and countless cultures across the globe have their own rendition of bride and groom garb. The increasing multiculturalism of the fashion world, as well as the prominence of the internet in establishing and fusing trends and traditions, may be the reason many spouses-to-be are opting for colourful wedding ensembles.
"Social media has been a major influence," says Ragimov. "Now brides are being exposed to so many different possibilities than ever before, especially editorial and runway looks, which has led to more brides choosing fashion-forward options rather than traditional bridal styles, like in the '80s and '90s." At Bergdorf Goodman, brides are advised to choose the dress "they feel most beautiful in, regardless of colour," and Ragimov acknowledges that the iconic bright white bridal gown is often replaced with softer tones, like pale pinks and subtle golds.
Thinking of getting colourful with your wedding style? Anything can be a wedding outfit, as long as you, well, wear it on your wedding day. Ragimov doesn't have any fabrics or styles she'd advice against – there's no limit: "It's all about the bride's personal style preference and how she feels."
Take a look at these colourful wedding styles for some vibrant outfit inspiration.
Patterns On Patterns
For a California cool wedding, steal a style nod from this couple, who simultaneously corresponded and clashed brightly hued patterns for an unforgettable ensemble. The key to making this look cohesive is that both the bride and groom's base colour is white, on which the patterns – both featuring blue – are printed. The matching boutonniere and flower crown also help tie the outfits together for a sartorial statement wedding.
Sequins And Velvet
The textural contrast of this couple is indeed elegant, and makes this Dublin City Hall wedding look like a black tie affair. While a typical wool tux might have seemed sub-par next to an all-sequin gold bridal number, the jewel-toned velvet of the groom's blazer lends some serious style to the duo's ensemble. Adding velvet pants wouldn't be the worst idea, and a pair of velvet pumps on the bride could also help unite the styles.
Grey And Pink
A grey gown may not immediately strike your fancy, but imagine it paired with your partner's grey formal shirt and a pop of colour in the jacket or entire suit. This couple looks seriously trendy in their muted but still unique tones, and both outfits are adorably cohesive. Ribbons and flowers on the bride's bouquet help further merge the two looks, which could be appropriate for nearly any season or setting.
Accented Navy
Black and navy used to be a major fashion faux pas, but of course anything controversial can also be turned hyper-chic, as seen with this couple's wedding ensemble. The bride's modest yet elegant navy dress with gold accents and a bit of sheer fabric ties everything together, becoming a red-carpet-worthy look with the groom's immaculate suit.
Pink And Blue
Sure, the coupling of pink and blue is gendered and can be totally cliché, but it's hard to deny that the two colours look great together in multiple shades. This dusky pink bridal gown is flattering with a bright blue suit – a pairing that feels both modern and timeless. The bride's gold belt and the groom's black bow tie add complementary accents on each outfit.
Emerald City
A wedding is a new beginning, so why not treat green as a symbolic colour? This rich emerald dress by Katrina Tuttle Bridal pairs perfectly with the purple boutonnière on the groom's black tux, for a hyper-sophisticated look. With emerald engagement rings also trending, an emerald dress can tie together the whole bridal colour scheme.
Polka Dots And Plaid
So clashy, it's mashy, this couple's retro look can easily be recreated with thrift store finds or with sentimental fabric custom designed into wedding ensembles. The key to making these two outfits pair up is the overlap in colours: The bride's peach dress is the same hue as the groom's bow tie and pocket square, which also match his teal suit.
Champagne
For those who don't want to veer too far from traditional white, take a note out of style icon Nicolette Mason's wedding album. Her champagne-hued dress was custom designed by Christian Siriano, bridal hero, but imitation is the best form of flattery. Paired with a classic suit and a tie that subtly complements the runway-worthy gown, this couple's attire offers an ageless, elegant look.
Something Blue
Cut like a traditional white wedding gown but fabricated in pale blue, this fairy-tale-esque dress offers a slightly less dramatic way to add colour to a wedding ensemble. The subtle hue would pair with a myriad of other outfits, especially with complementary – but not matching – colours, like the groom's grey bow tie in this couple.
Architecture-Enhancing Orange
If you're getting married in a place with eminent architecture or a certain feature you want to highlight, consider dressing in similar hues. This burnt orange gown by Leanne Marshall complements the cute houses in the landscape of this outdoor wedding, and also shows how gowns designed for galas can be transformed into wedding wear with the right bouquet of flowers. The spouse's outfit ties the dark suit in with the dress – the groom's brown hat and boots add a more casual look, and the navy- and green-checkered shirt underneath his jacket flatters the orange gown for an overall autumnal look.
Article by Melissa Kravitz