';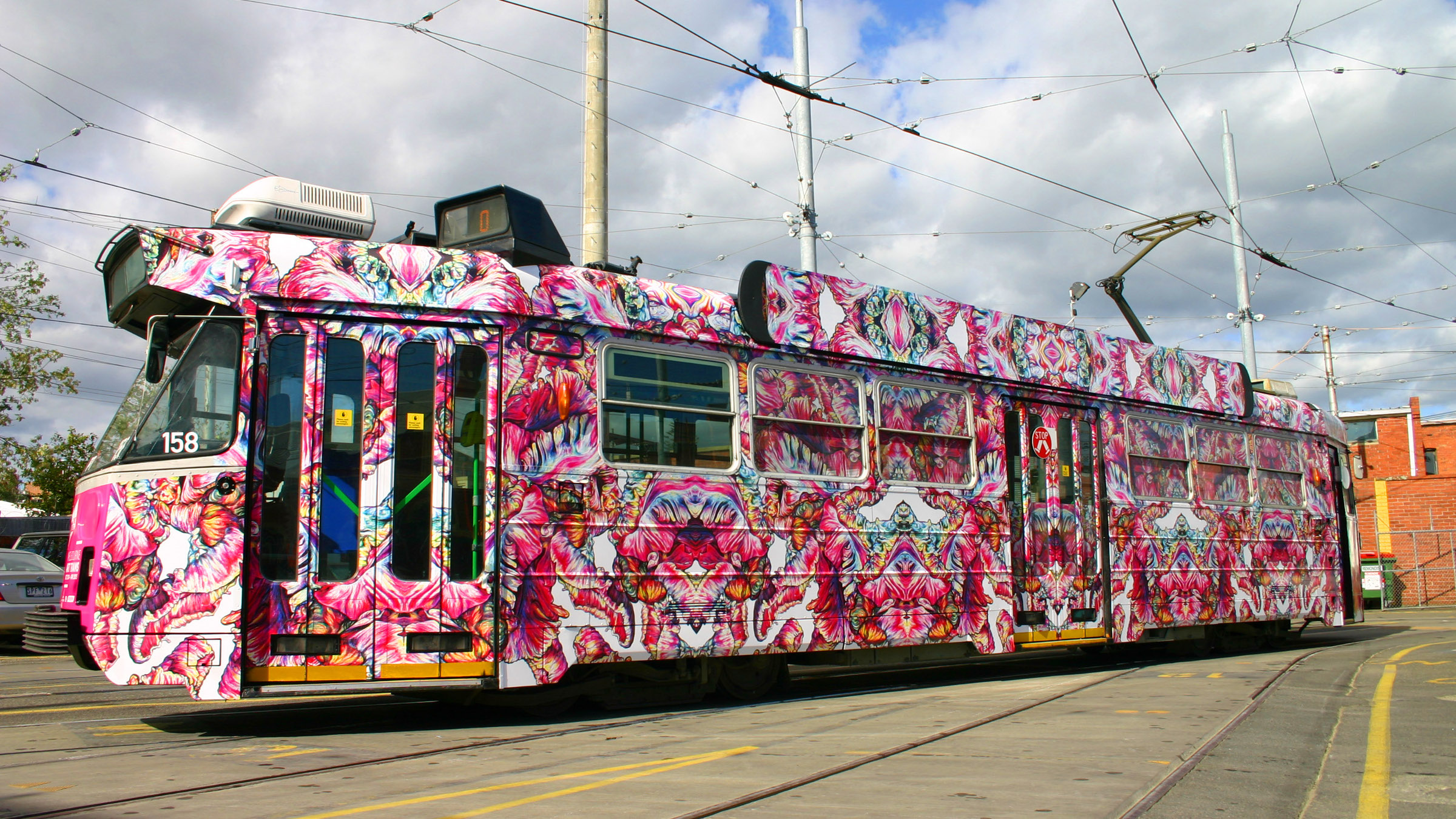 ;
Though they briefly went out of style in favour of buses in the mid-20th century, trams are back, having won the hearts of city planners everywhere with their smooth rides, reliability (traffic be damned!) and environmental friendliness. Take a look at these cities boasting the best and most bedazzled streetcars around.
Blackpool, England
England's original seaside resort, Blackpool is home to historic cafés, theatres and Victorian-era hotels that add a dash of nostalgia to its abundance of 21st-century diversions – as do a number of Heritage Trams roaming the city tracks. Particularly head-turning are the 'boat trams', commissioned for Blackpool in the 1930s. Only a couple of the initial 11 cars are in service, most often brought out for holidays, celebrations and the city's annual Illuminations festival each autumn.
blackpooltransport.com
[Photo: David Ingham via Wikimedia Commons]
Hong Kong
While you can still catch a two-storey streetcar in Alexandria and Blackpool (if you're lucky), Hong Kong is the only city in the world operating exclusively double decker trams. The system, nicknamed 'Ding Ding' by locals, can be tricky to navigate, but once aboard, it's a leisurely way to see the city sights. Two antique cars, 'Albert' and 'Victoria', are still in use and available for private hire, sporting an open-air observation deck on the upper level.
hongkongextras.com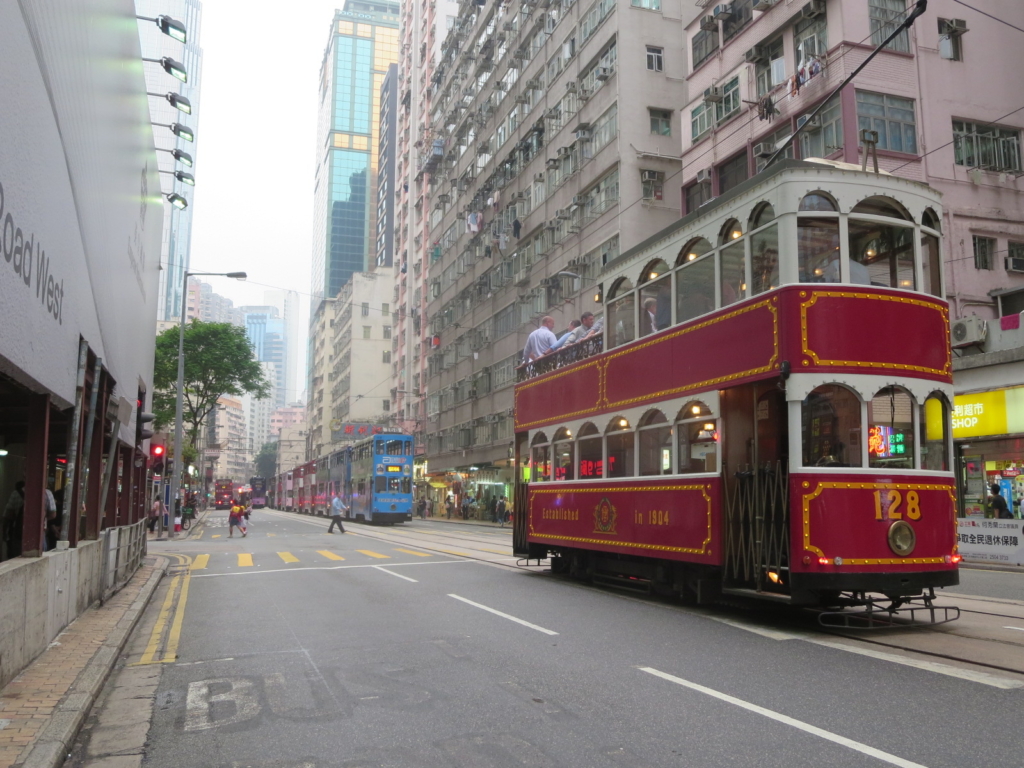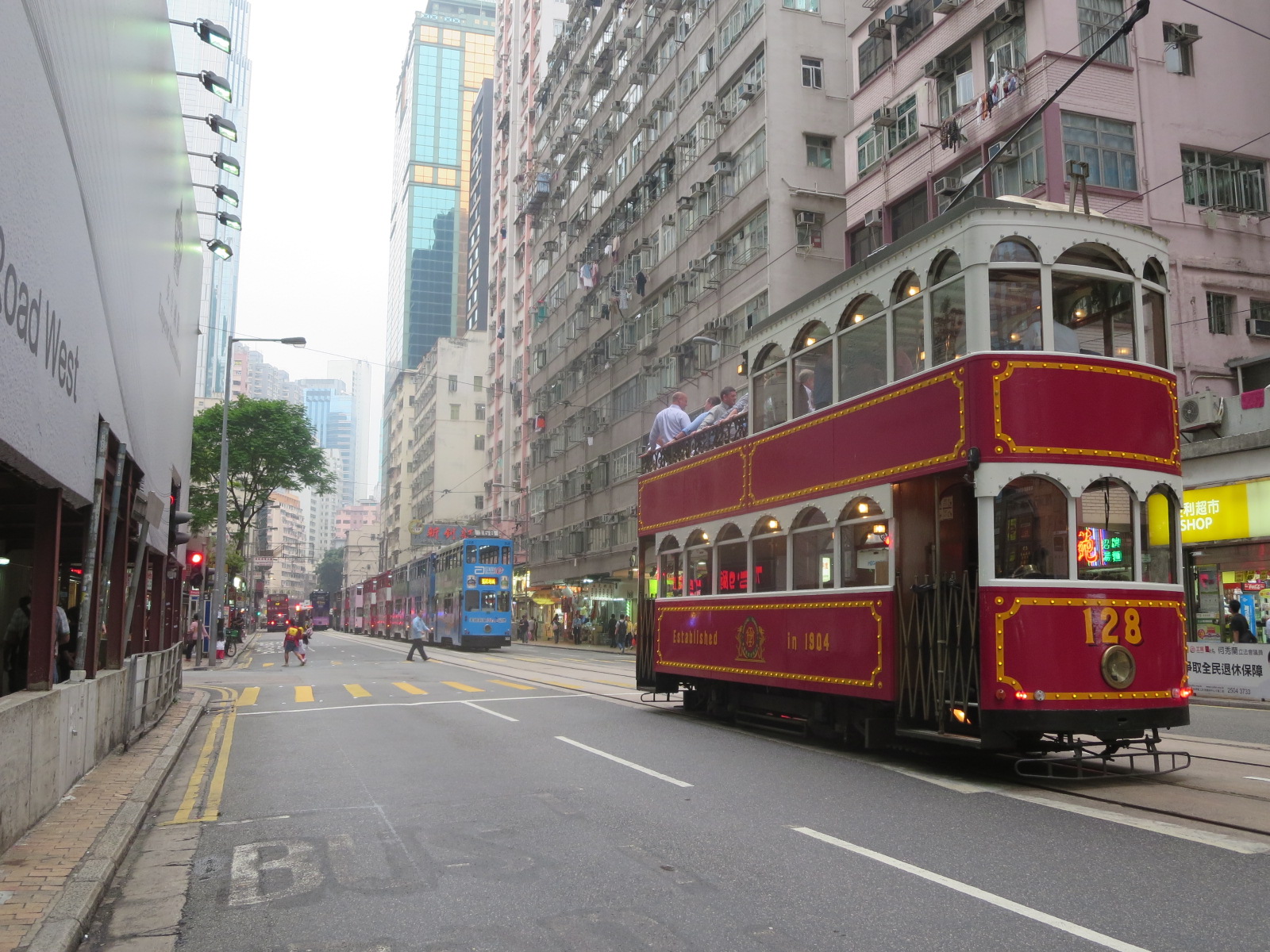 [Photo: Mike Peel via Wikimedia Commons]
San Francisco, USA
Their iconic trolleys may get all the attention, but the San Francisco transit system actually has an impressive collection of vintage streetcars born in major cities across the US and around the world. From restored 1920s Hiroshima trams to 1950s Zurich streetcars and this one built for Philadelphia in 1947, the rails of San Francisco may be the world's most useful museum.
streetcar.org
Lisbon, Portugal
They're tiny, they're touristy, and in the heat of August, they're darn near tropical – but Lisbon's nostalgic streetcars and funiculars are an unmissable part of any jaunt in the Portuguese capital. Trundling up and down steep hills, handling tight turns and gliding along narrow cobblestone streets, these vintage trams are as much a Lisbon hallmark as Azulejo-tiled façades and Fado clubs. Opt for a 24-hour ticket that lets you hop on and off at will, then grab line 28 to take in the quintessential landmarks of the old town.
carris.pt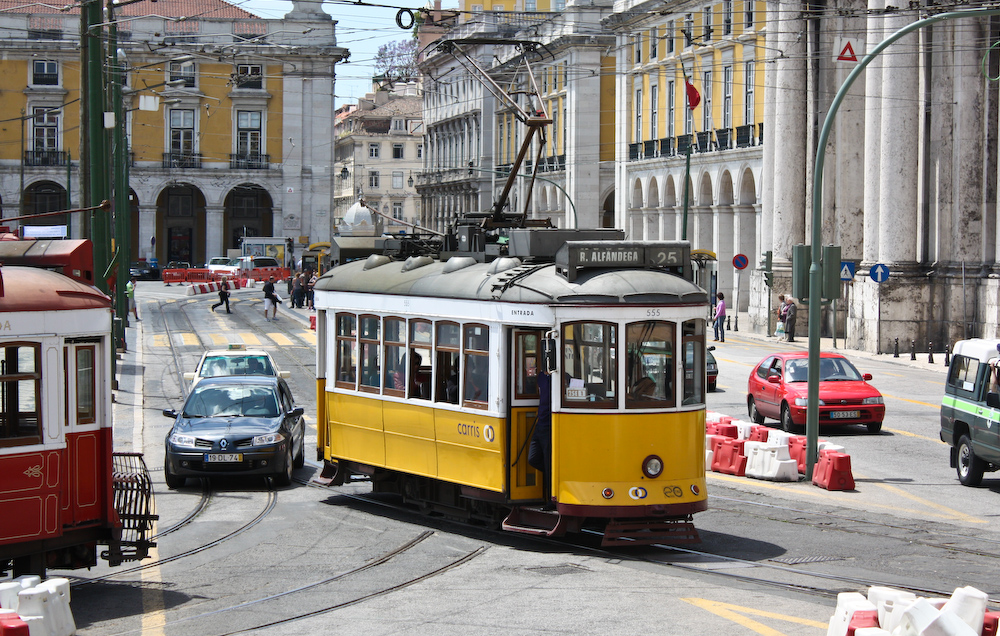 Melbourne, Australia
Home to the world's largest urban tramway network, Melbourne is served by 250 kilometres of track along which run 501 trams, both vintage and modern. Its most striking cars, though, are the eight that became canvases for select artists as part of this year's Melbourne Festival, snaking through the city as moving works of art until April 2015. Spotting one of these beauts in the 'wild' is a treat, but if you don't want to leave it to chance, just note the tram number and plug it into Yarra Trams' handy tramTRACKER.
yarratrams.com.au/tramtracker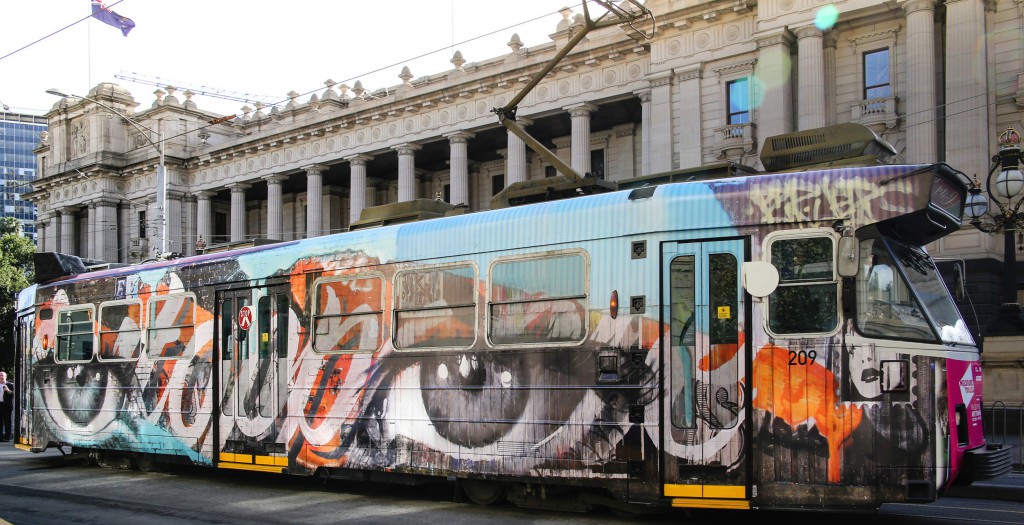 [Photo © Melbourne Festival]
Reims, France
A new tram fleet in Reims debuted in 2011, the second streetcar system in the world to use the ground-level power supply method developed a decade earlier by the Bordeaux tramway. Aside from a lack of unsightly overhead cables, the network features brightly coloured streetcars dreamed up by Swiss designer Ruedi Baur to evoke the shape a Champagne flute — the bubbly beverage being a key export of the region.
citura.fr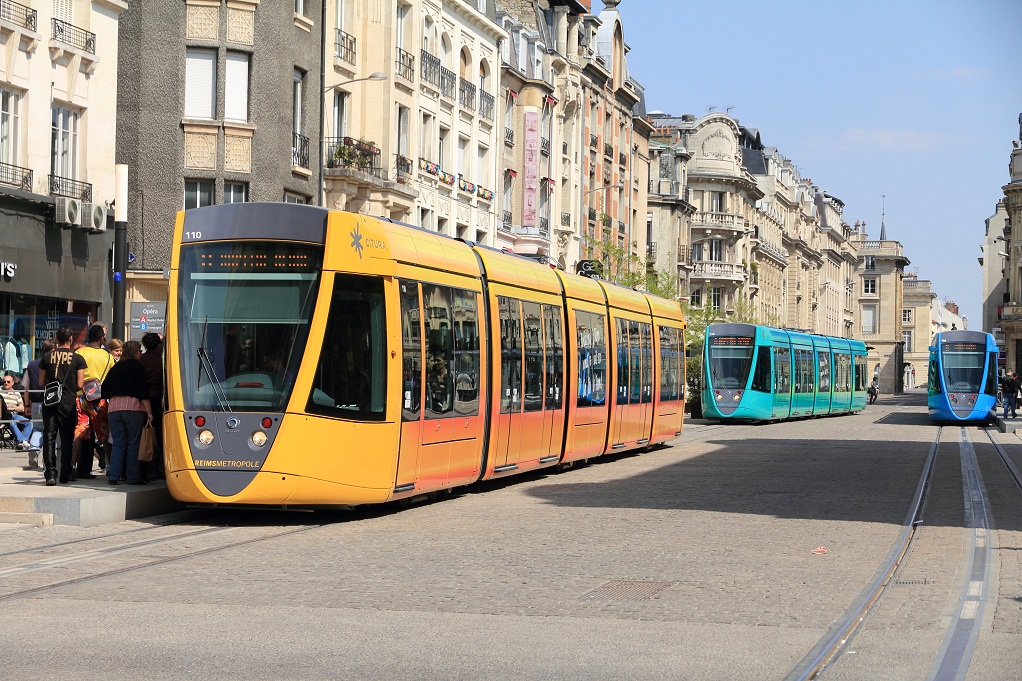 [Photo: Lunon92 via Wikimedia Commons]
Brussels, Belgium
The EU capital is not just home to one of Europe's largest tram systems, but also one of its swankiest. 2006 saw the inauguration of a series of Art Nouveau trams from Bombardier's Flexity Outlook line. Indirect lighting casts a soft glow, interiors are outfitted in wood and leather, and a premium gold-and-silver livery is easy on the eyes.
brussels.be
Moscow, Russia
In July, Russian machinery builders UralVagonZavod (UVZ) released the prototype for their sleek new Russia One tram, featuring WiFi, air conditioning and antibacterial handrails, as well as music and LED lights that change to suit the time of day. A forward-tilted windshield, meanwhile, is for more than 22nd-century looks; it boosts safety standards by helping the conductor see nearby pedestrians. UVZ hopes to begin producing the cars for major Russian cities in 2015, but it may be a while before these guys hit rails outside the Russian Federation.
uralvagonzavod.com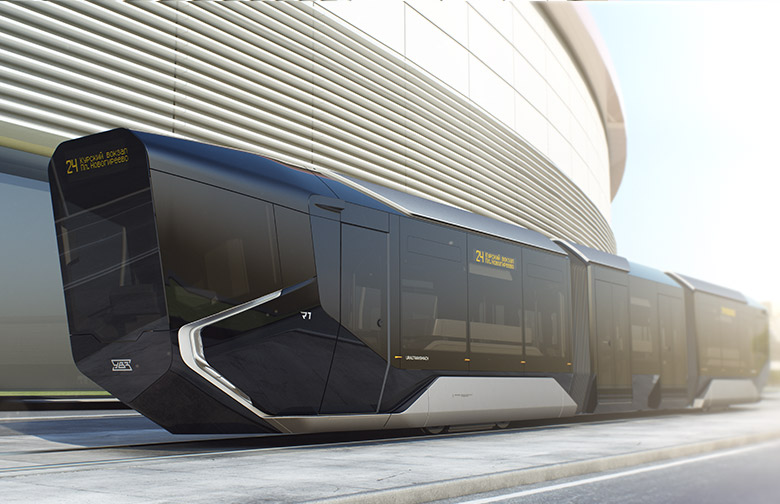 [Image © 2014 Uraltransmach]
Article by Jessica Keller
[Photo at top © Melbourne Festival]
How do you view the appeal of trams?