';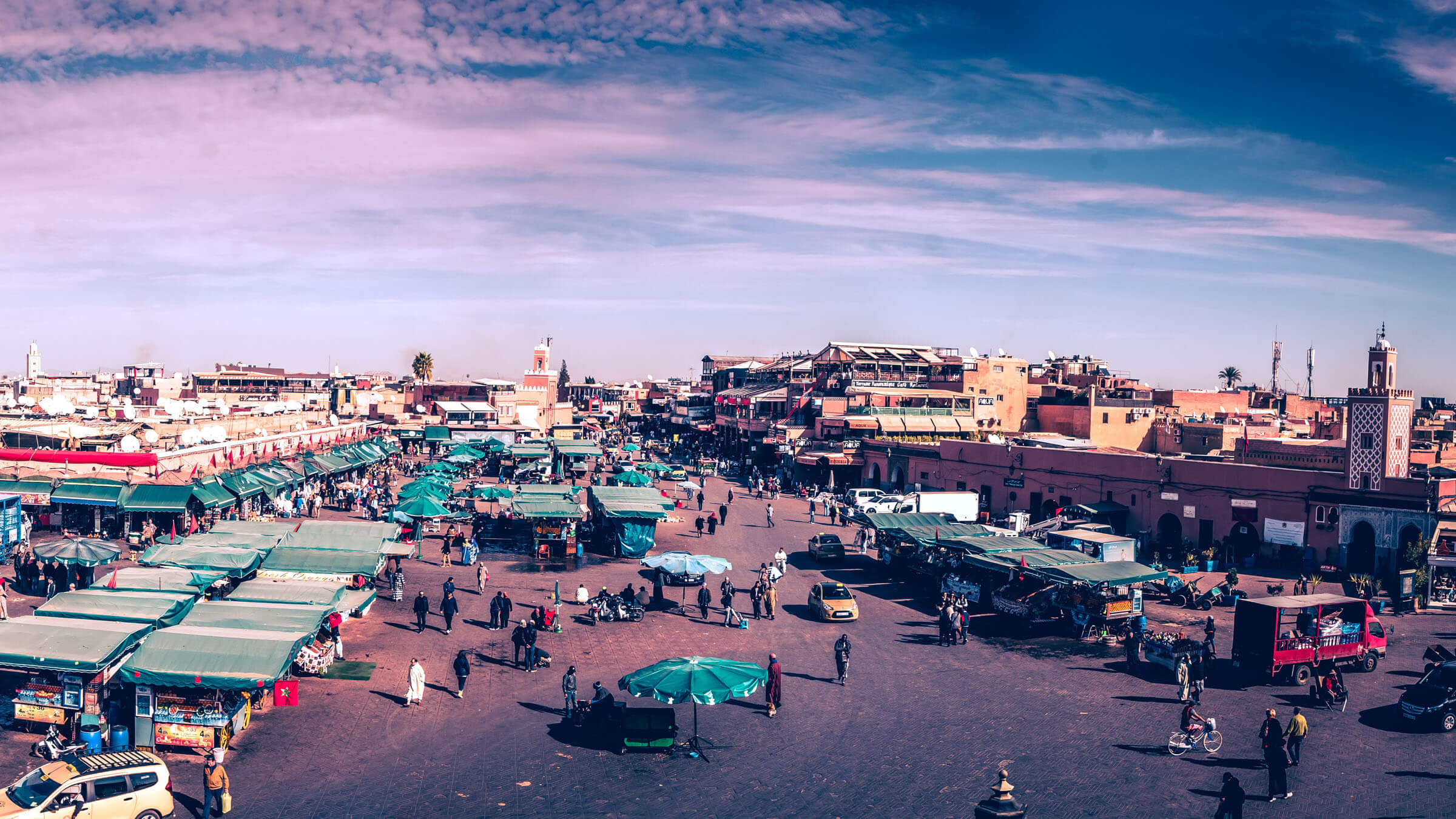 ;
Marrakech: It's one of Morocco's most vibrant metropolises, with thousands of years of history. Back in the '60s and '70s, Marrakech was a hippie mecca of sorts, attracting musicians like The Beatles and The Rolling Stones. Today it's a destination for adventurers – for those that like the idea of getting lost in a tangled network of narrow passageways cluttered with fascinating sights, smells and people.
9:30am: Breakfast At Riad Ida Ou Balou
Keep it simple at Riad Ida Ou Balou, a little traditional guesthouse where you can start your day off with breakfast in the peaceful courtyard. Sip some Morrocan mint tea and soak in the morning rays. You're close to everything you need to see in Marrakech, without paying unnecessary five-star prices.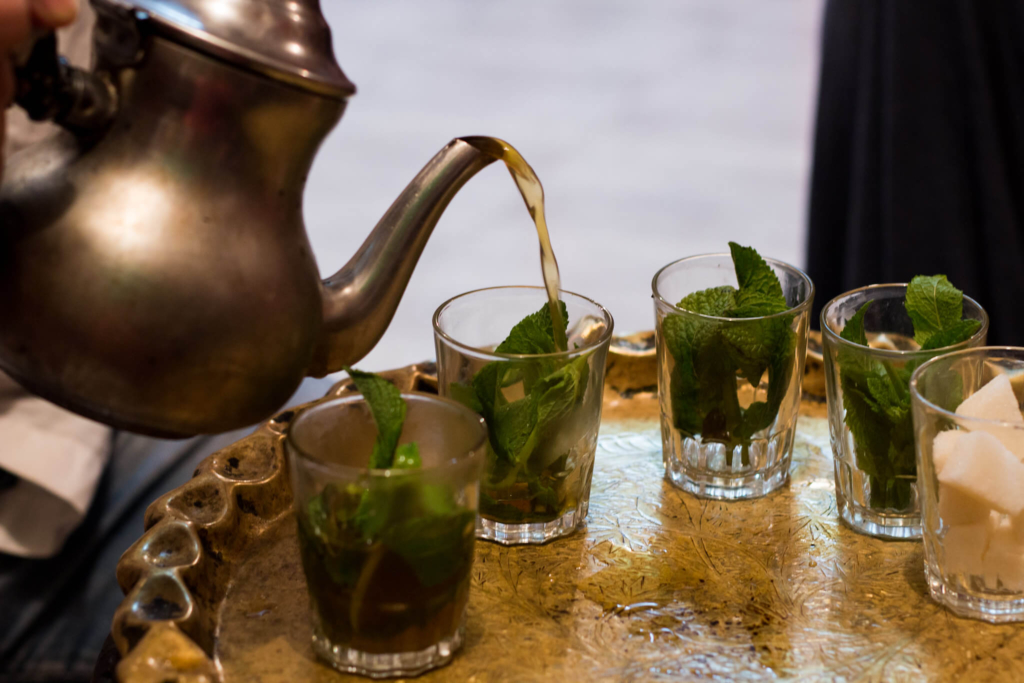 [Photo: Liz Mochrie/Flickr]
10:30am: Dive Into The Medina
It's time to haggle! Marrakech is home to the largest souks (traditional Berber markets) in Morocco, located in the old Medina quarter. Spend the late morning winding your way through the twisted passages of this lively marketplace, where prices are determined through the art of bargaining. You can find it all here – from tiny closet-sized stands to cavernous shops filled with everything imaginable.
If haggling with overly enthusiastic salesmen isn't really your thing, don't worry – the Ensemble Artisanal is a great alternative. This collection of artisanal shops has handmade wares with fixed prices.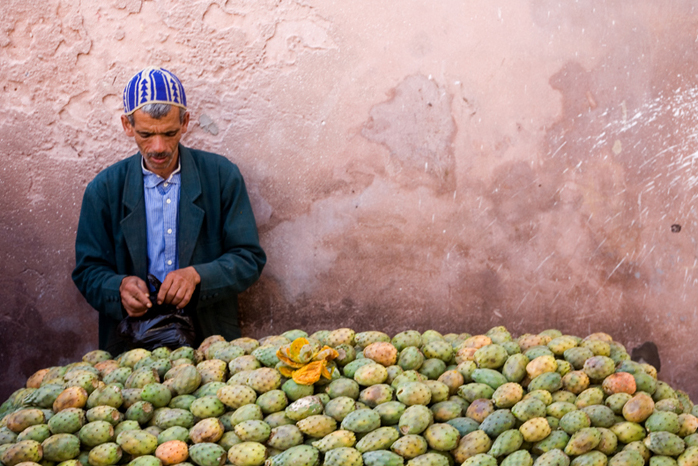 [Photo: Claude Renault via Wikimedia Commons]
12:00pm: Majorelle Garden
So yeah – souks can be exhausting. Get away from all the excitement for a little while with a petit taxi and head for Majorelle Garden. The 12-acre garden was created by French artist Jacques Majorelle and is known for the bold cobalt blue covering much of the property and its buildings. You'll feel rejuvenated and ready for more adventure after a leisure stroll down its paths.
1:30pm: Lunch At Al Fassia Guéliz
Al Fassia is the place to go for a traditional Moroccan meal for three reasons: (1) The food here is so good that even the locals come in droves; (2) the menu is à la carte, meaning you can try lots of different small dishes without having to commit to a huge five-course feast; and (3) the place is run completely by women – a good enough reason all on its own. Don't forget to book in advance!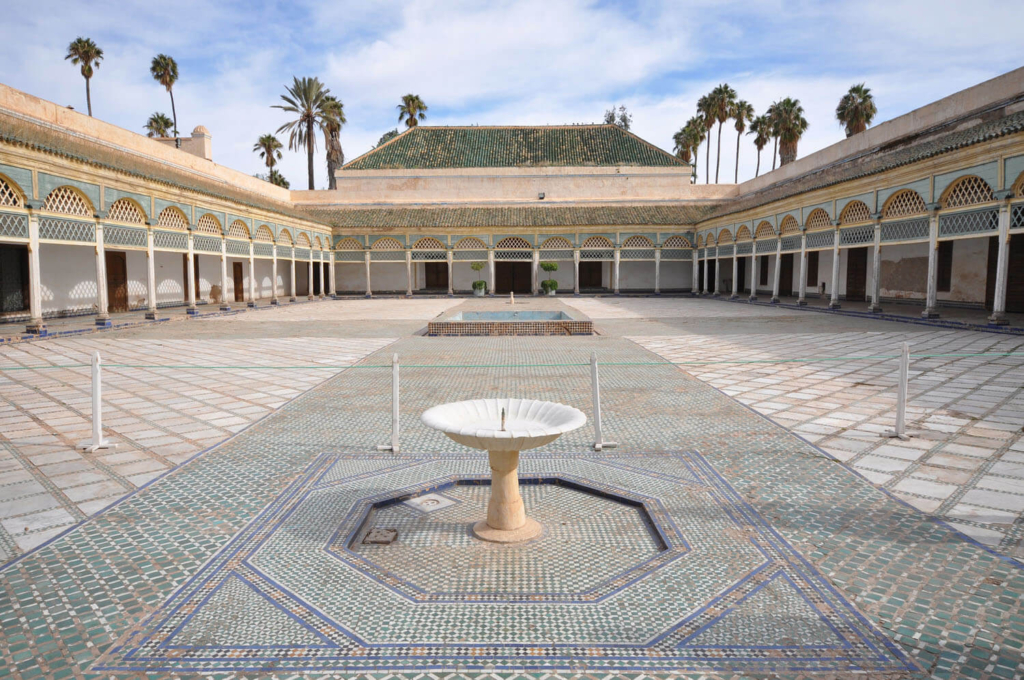 [Photo: Jorge Láscar/Flickr]
3:00pm: Ben Youssef Medersa
The inscription over the entrance of the Ali Ben Youssef Medersa reads, "you who enter my door, may your highest hopes be exceeded," which makes it sound worth visiting already. The beautiful landmark, originally built in the 14th century, was once the largest Islamic college in Morocco. Though students no longer walk these halls of carved cedar, marble and stucco, Youssef Medersa is open to the public. Enjoy the calm, studious ambiance.
4:00pm: Palais de la Bahia (Bahia Palace)
The Palais de la Bahia started out as an ambitious project in the 1860s and was embellished by slave-turned-vizier Abu "Bou" Ahmed a few decades later. The result is a stunning 8 hectares and 150 rooms of Moroccan architectural beauty that anyone visiting the city has to see for themselves. The Grand Court is especially impressive, with painted and gilded wood panel ceilings that'll give you a crick in the neck from staring upwards.
If you start to get hungry again at some point, here's a tip: grab some prickly pears (figues de barbarie) from one of the local stands that you can find pretty much anywhere. They make the perfect sweet snack if you can't wait until dinner.
5:00pm: Cleansing In Hammam Ziani
Hammam Ziani is within walking distance of Bahia Palace, so get ready for an authentic evening of relaxation, Moroccan style. A Hammam is a bit like a sauna, but with a few important differences. Though the experience involves sweating and full-body massages, the routine doesn't stop there – a motherly woman will lead you by the hand to get completely scrubbed down and washed up until you come out feeling shiny and new with muscles of butter. For those not to keen on public nudity: trust us, it's worth it (there are separate areas for women and men).
7:00pm: Snacks And Concerts/Storytelling At Café Clock
As the sun starts to set, the best place to find yourself is Café Clock. This cultural centre offers activities like henna lessons and traditional storytelling with a warm community atmosphere. Come for one of their sunset concerts, which feature everything from traditional Houriya music to bands that fuse jazz with traditional Moroccan sounds.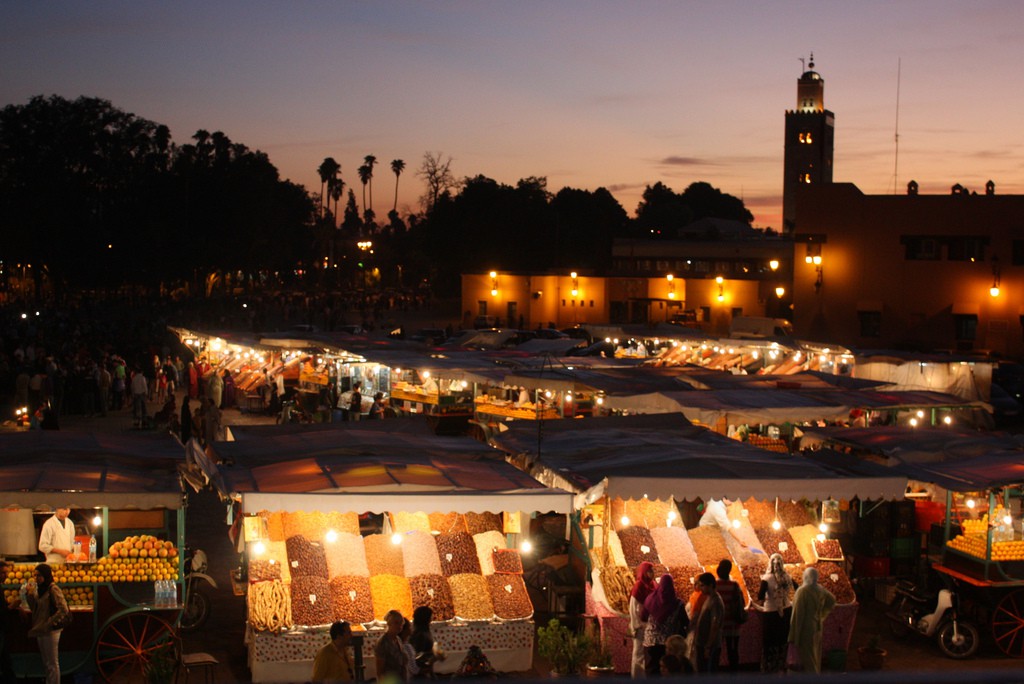 9:30pm: Place Jemaa el Fna
End the day at the beating heart of Marrakech: Place Jemaa el Fna. This city centre, protected as a UNESCO World Heritage Site, is the busiest town square in Africa. In case you get lost on the way (probable), just look for the towering Koutoubia Mosque, located just off to the west of the square. Place Jemaa el Fna is at its most energetic at night, when rows of food stands glow in the lamplight and cooking steam curls into the dark sky. Have some freshly pressed orange juice and try some harira (traditional Moroccan soup) or something deliciously fried on a stick.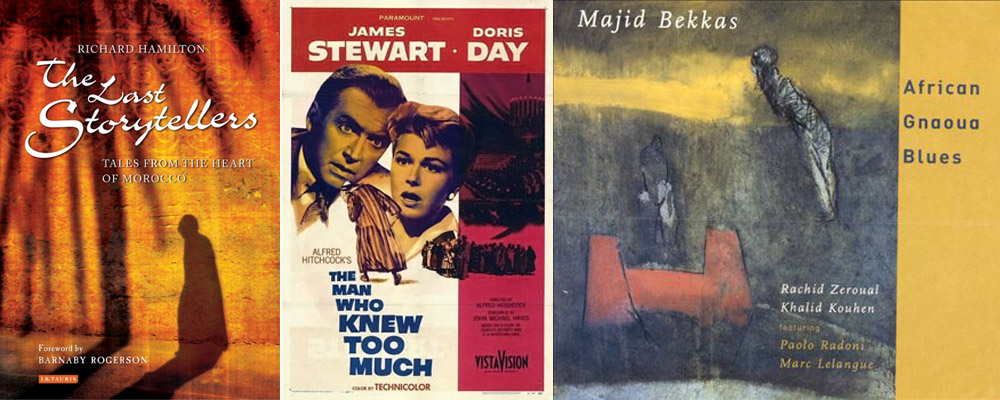 Before you go:
Read
The Last Storytellers: Tales from the Heart of Morocco, Richard Hamilton
Oral storytelling is an ancient tradition in Morocco, and Marrakech's Place Jemaa el Fna square has always served as the gathering place to hear these tales. In modern times, the traditional storytellers have started to disappear and the stories are starting to fade into distant memory. In this collection, Richard Hamilton has tracked down some of the few remaining orators to record tales that might otherwise be completely forgotten.
amazon.com/The-Last-Storytellers-Tales-Morocco
Watch
The Man Who Knew too Much, Alfred Hitchcock
In this suspenseful thriller starring Doris Day and James Stewart, an American family on holiday in Marrakech gets involved in an assassination plot. Much of the movie was shot on location in Marrakech, including scenes in the famous Place Jemaa el Fna. A fascinating city shot from the perspective of one of Hollywood's greats.
Listen
African Gwana Blues, Majid Bekkas
Majid Bekkas has spent his music career creating a rich fusion of traditional Moroccan Gwana music and jazz. The whirl of jazz rhythms melded with traditional Moroccan instruments is a pleasant sound you most likely haven't heard before.
youtube.com/watch?v=z5vi5jHb0sw
Article by Gail Wilcoxen (and Anissa Tijani)

You tell us, where should we spotlight next?