';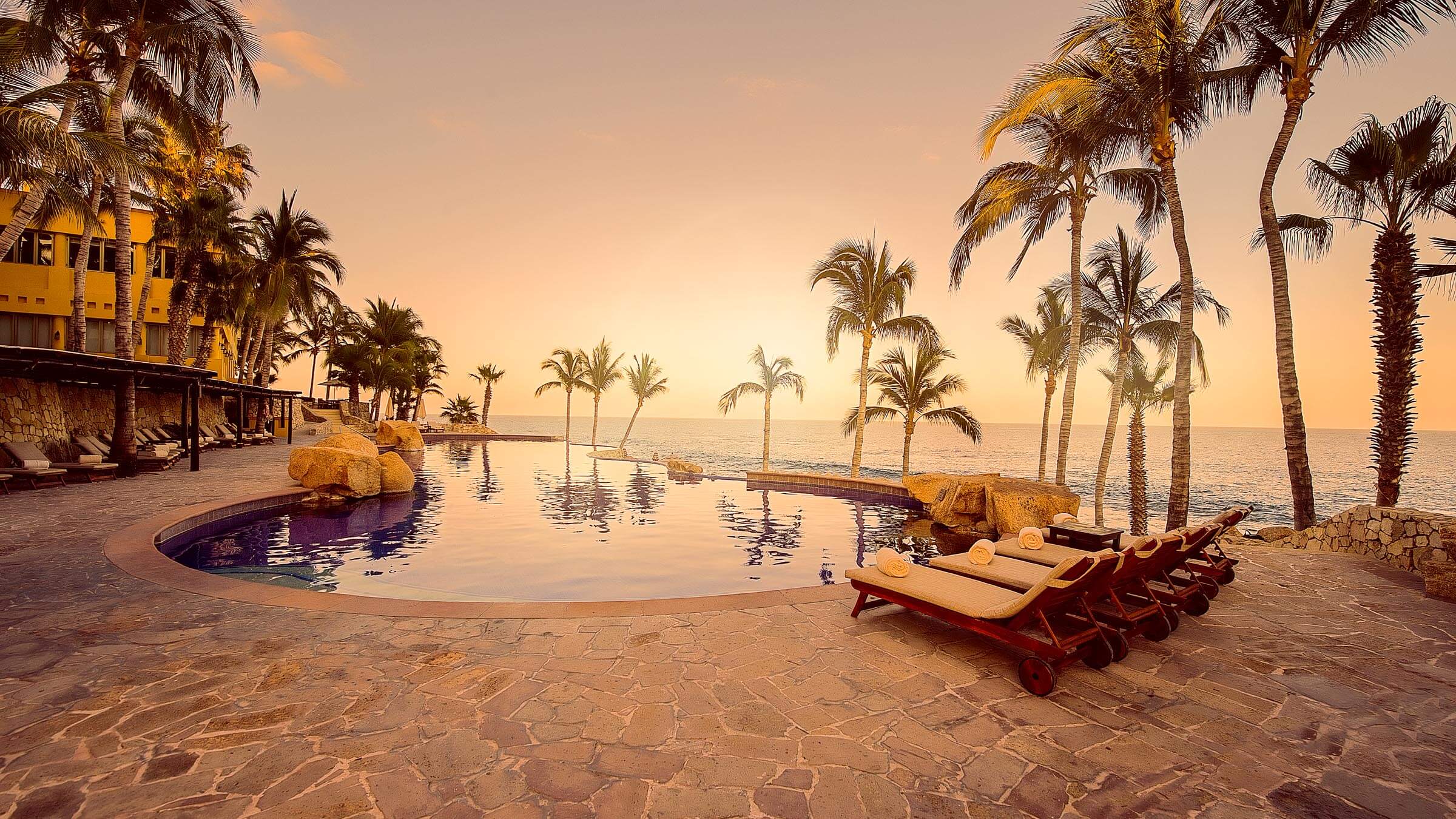 ;
Swimming in the surf, laying by the pool, stuffing yourself full of buffet food – all beach vacations are the same, right? Wrong. You'll be singing a different tune when you see all the world-class activities and opportunities on offer luxury resort Grand Fiesta Americana Los Cabos All Inclusive Golf & Spa on Mexico's Baja California peninsula.
Enjoy The Luxe Life
It's not every day you find a resort that's both exclusive and all-inclusive – and even rarer to find one that truly pulls it off like Grand Fiesta Americana Los Cabos. Located in the luxury gated development of Cabo del Sol, at the tip of the Baja California peninsula, this beachfront resort is set between sapphire seas and stark desert terrain, and features a stunningly landscaped complex with six swimming pools, four Jacuzzis and a serene private beach renowned for its incredible snorkelling.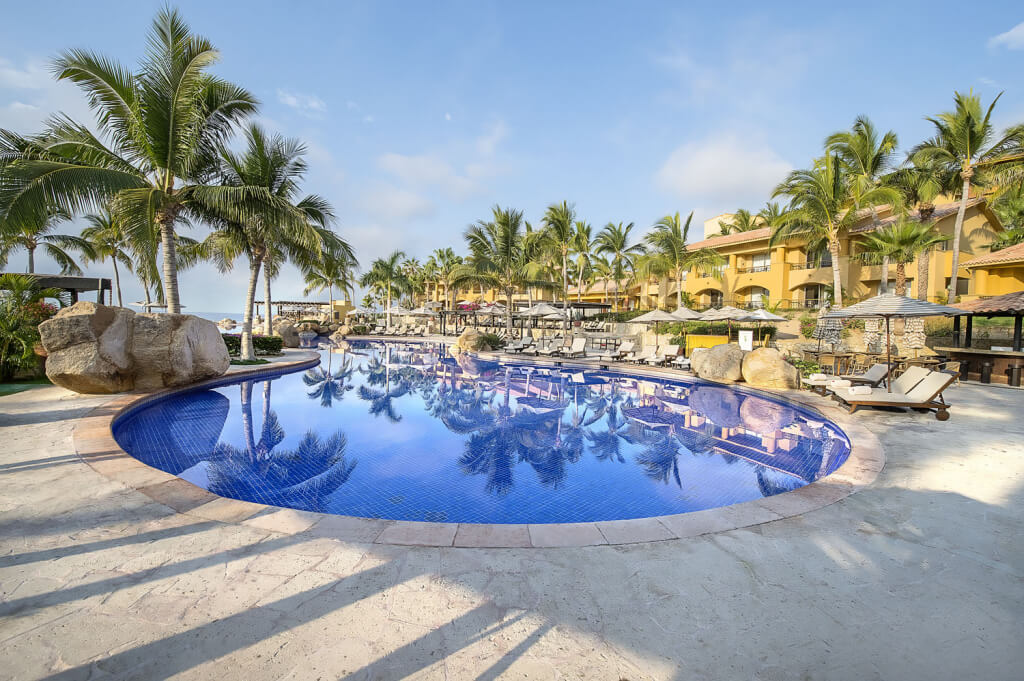 Get Active On Land 
Catering for guests of all ages, from families to friends and couples, Grand Fiesta Americana Los Cabos offers a wide range of activities and areas waiting to be explored. Join a yoga class or volleyball game, sign up for a tasting session of tequila or wine, or take a lesson in mixology. Adventurous types, on the other hand, can explore the mysteries of the Mexican desert on horseback or ATV. And of course, no visit to the region is complete without a stroll through the charming San Jose del Cabo Historical District, just 10 minutes away.
…Or Sea
Not much of a landlubber? Grand Fiesta Americana Los Cabos is perfectly situated for an exciting array of water-based activities. Snorkelling at the hotel's own beach is a favourite, but why not go deeper and take a scuba diving excursion? If you prefer to stay on the ocean surface, then perhaps a day of sailing or fishing is more to your liking. It's all here – just choose your activity and dive right in.
Tee Off At An Award-Winning Golf Course
The golfer in the family will be pleased to hear that Grand Fiesta Americana Los Cabos is situated only a few steps from the celebrated Cabo del Sol Ocean Course. Designed by Jack Nicklaus and named among the top 100 golf courses in the world – and the best in Latin America – the course boasts nearly 2km of oceanfront and 7 fantastic ocean holes.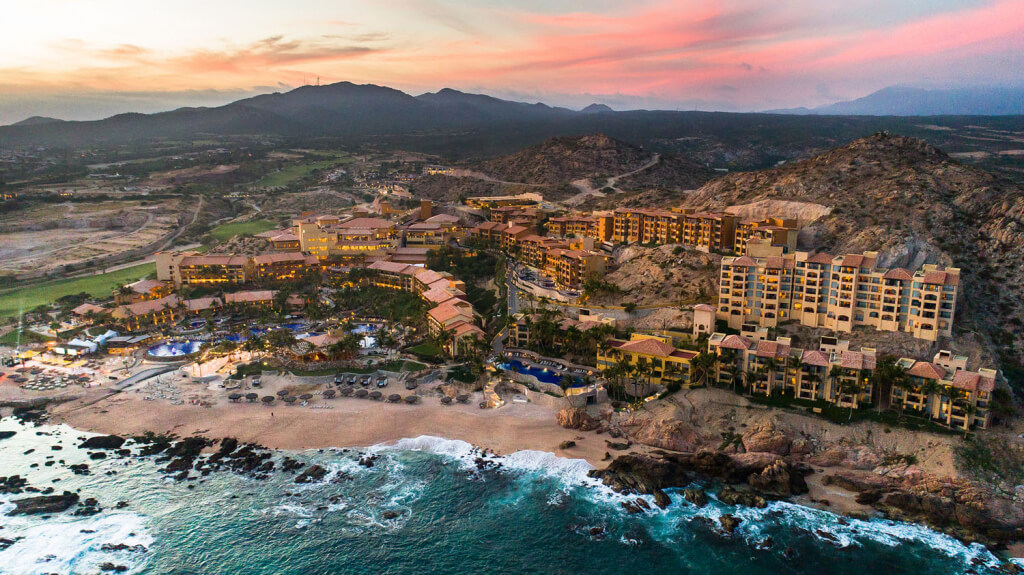 Indulge Yourself At A Unique Spa  
For anyone looking to forget the world for a while, there's no better place to be than the Somma Wine Spa at Grand Fiesta Americana Los Cabos. The spa prides itself on its innovative vinotherapy approach not found elsewhere in Mexico, using grapes from the peninsula's Guadalupe Valley to rejuvenate the skin and relax the mind. Aside from pampering treatments using grapes and other wholly natural ingredients, the Somma Spa invites guests to unwind in the purifying sauna, relaxing steam room, calming hydro-massage pool and more. Need to work up a sweat before kicking back? Get in a workout at the Kinesis Gym overlooking the sea.
Savour Incredible Food
All that activity and indulgence making you hungry? No less than nine gourmet restaurants beckon foodies at Grand Fiesta Americana Los Cabos, each with a different concept and cuisine, so you won't have to worry about tiring of the same old buffet meals. Highlights include the modern urban fare at Blu (along with its ocean views), the seafood at beachfront La Cevicheria, the Italian specialties at upscale Rosato, the sushi and panoramas at Sushi Sky Bar, and the local flavours at traditional Mexican eatery El Mexicano. Wash it all down with select local and imported drinks and wines at one of the resort's six bars, such as the Black Lemon disco lounge serving up signature beverages as the resident DJ spins his best tunes.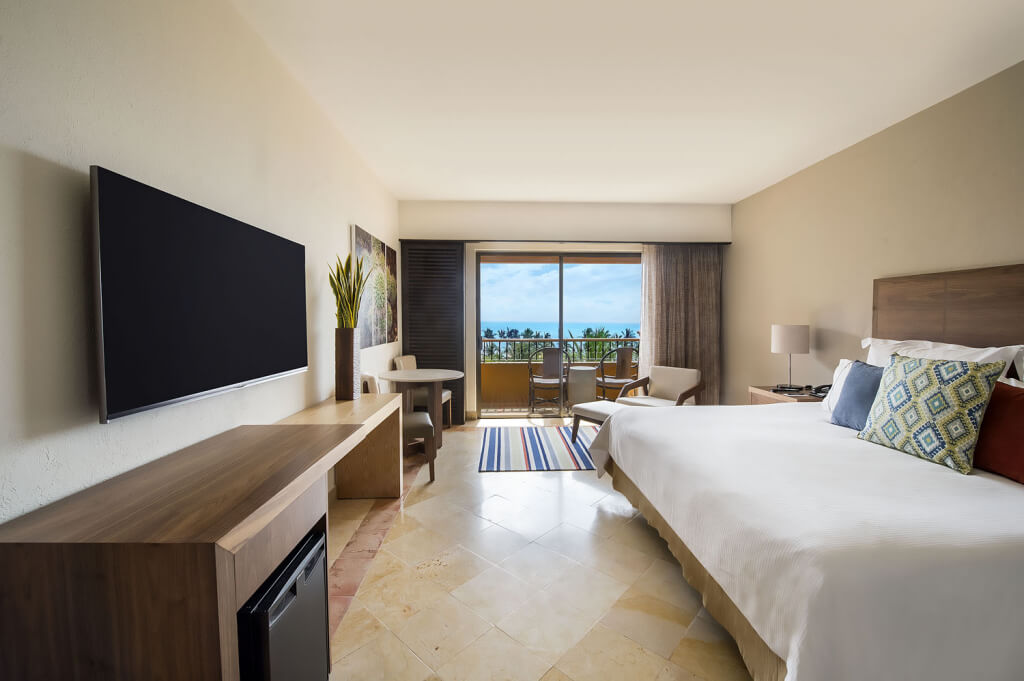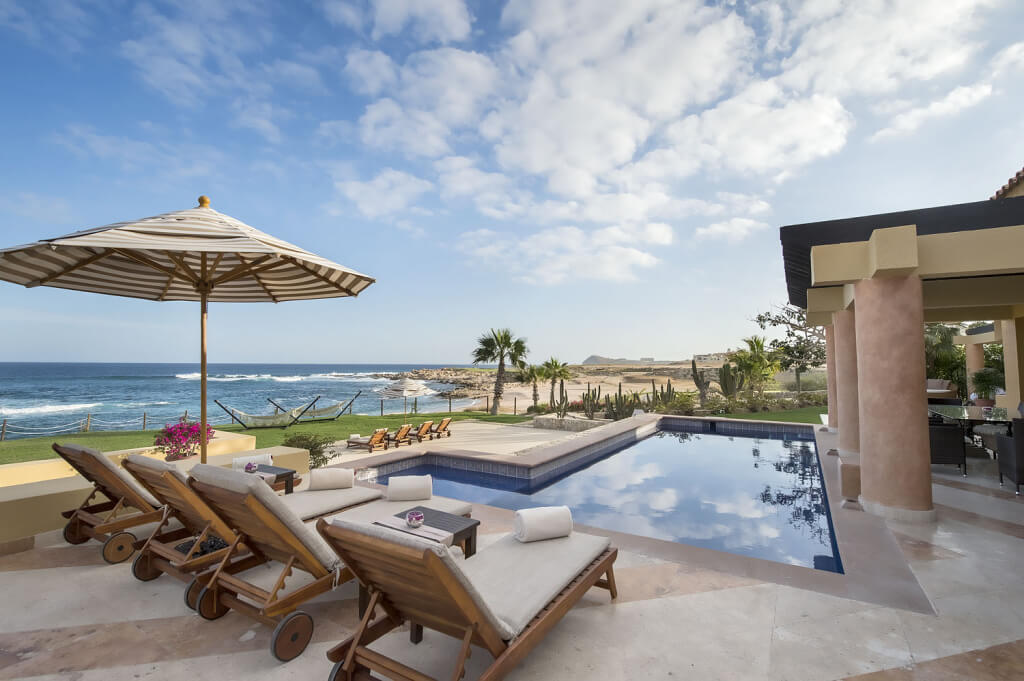 Make Yourself At Home
When it comes time to rest your head at the end of an eventful day (or blissfully uneventful, if you prefer), the Grand Fiesta Americana Los Cabos will make sure that you sleep easy. All 527 comfortable guest rooms and suites were designed with a contemporary Mexican aesthetic, and all boast private balconies with breathtaking views of the Sea of Cortez. Not only will you feel at home – you may never want to leave.
Book now at grandfiestamericana.com