';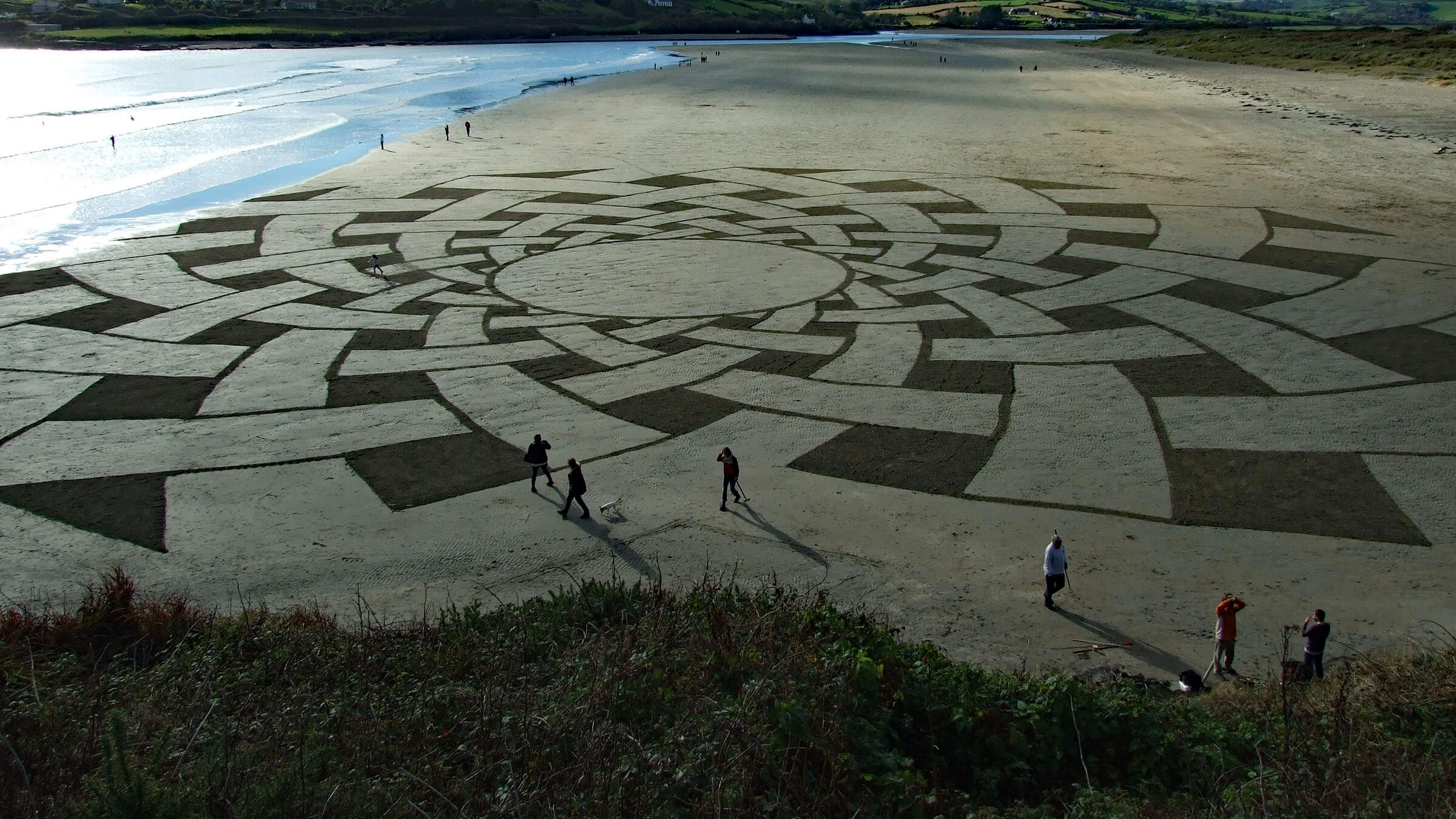 ;
A group of artists regularly create large-scale sand circles on a beautiful beach on Ireland's Wild Atlantic Way. Inspired by works of beach art in California, they work with the natural canvas laid bare at low tide, which is wiped clean once the waves roll in. The temporary nature of sand art makes it difficult to plan and even harder to witness.
Inchydoney Beach on the West Coast of Cork, near the end of Ireland's Wild Atlantic Way, is a remarkable place of natural beauty 365 days a year (yes, even on the 200-odd rainy days). On some days, it also becomes a canvas for a remarkable form of art.
At low tide, a group of artists gather on the sand canvas stretched out between the ocean and the dunes and set to work on an ephemeral "painting". With rakes, sticks and other tools, they begin to etch a design into the large, flat expanse of sand. They look a bit like an extremely fastidious clean-up crew, without anything to actually clean up. When they're done, the pattern they created will resemble a bouquet of shamrocks, a large Celtic knot, or – more often than not – abstract geometric shapes, made up of interlocking circles, undulating contours or spiralling lines.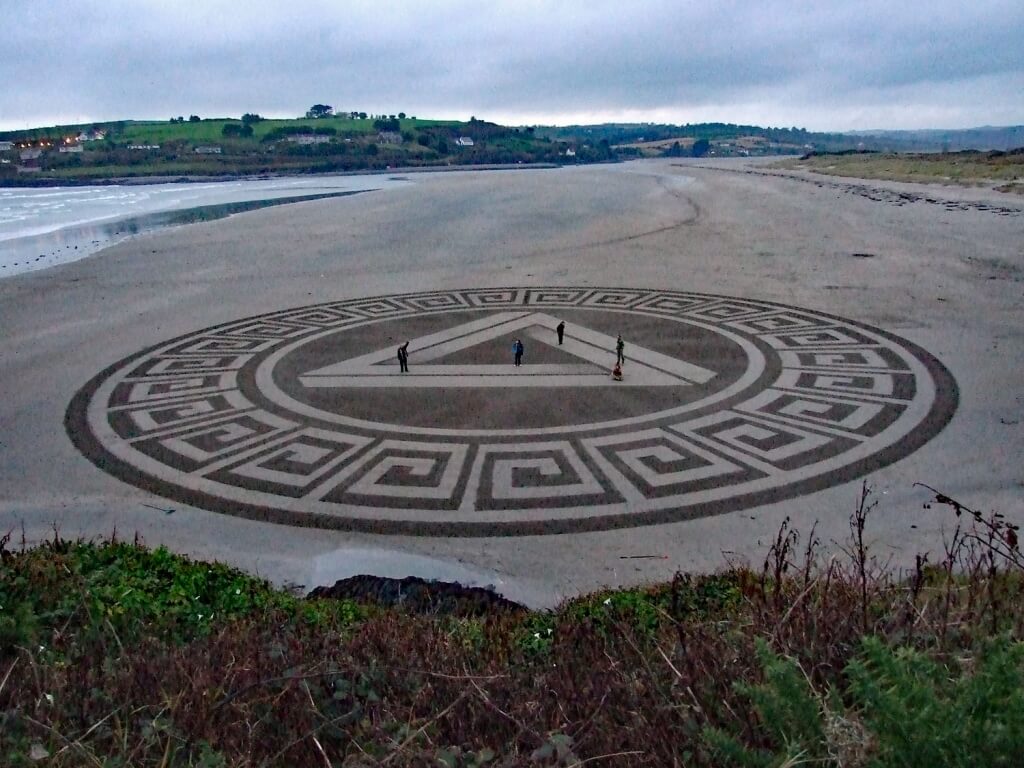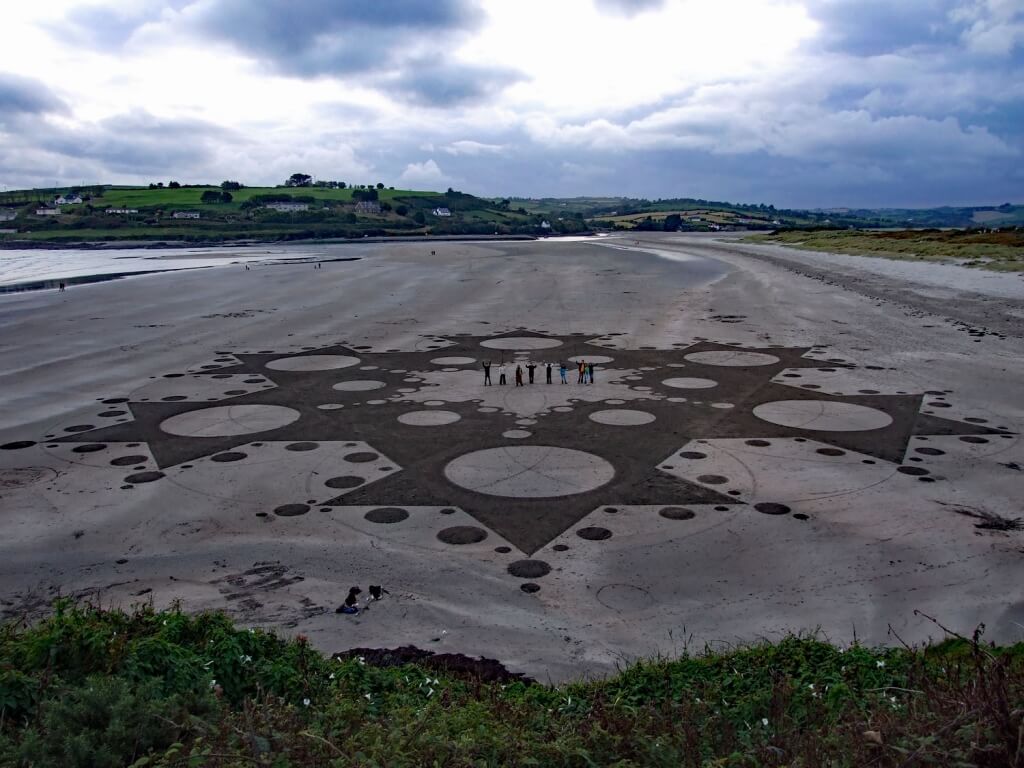 The beauty of these sand circles is hard to appreciate up close. It reveals itself at a distance, when viewed from the headland separating the Eastern and Western part of the beach, or when photographed by drone from above. Once the tide comes in, photographs are all that remains of the works of art created on Inchydoney Beach. The waves lapping at the sand circles are part of the process, creating a newly blank beach canvas by the next low tide.
Rather than traditional art from natural materials or placed in natural settings, sand art fits the definition of land art. It is created in and of nature, and reclaimed by nature upon completion. Anywhere in the world sand art appears, it is admired and appreciated, while forcing onlookers to contemplate essential questions about the nature of artistic creation. Sand art also confronts us with the impermanence of all human-made things.
Of course, if you're feeling less philosophical, you could just say that creating sand art is a fun way to while away a day at the beach, and that the completed design brings joy to those who manage to catch a glimpse before it's washed away.
Whatever their motivation, beach artists from San Francisco to Sylt create sand art – some individually, others in groups. Some, like Californian artist Andres Amador, even make a living creating commissioned works. In Inchydoney, a group now called West Cork Sand Circles have been "painting" in the sand since 2012.
Local artist Ronan McLoughlin had imported the idea from a visit to California. His friend and fellow creative Andreas Markus Hoenigschmid had introduced him to the art of sand circle making on Santa Monica Beach, and when McLoughlin returned to Ireland he suggested the idea to a group of friends. The group quickly grew and they estimate that around 90 designs have been created since. Over 1,000 members now keep in contact through a dedicated Facebook group, where they arrange to meet within about a week of the next planned sand circle. "It is rather impromptu," according to Matthew Hart, who manages the group's page and website and is often the instigator behind new works of sand art in Inchydoney. "They don't seem to happen unless I organise them, although there is nothing stopping other people from taking the reins!" he quips.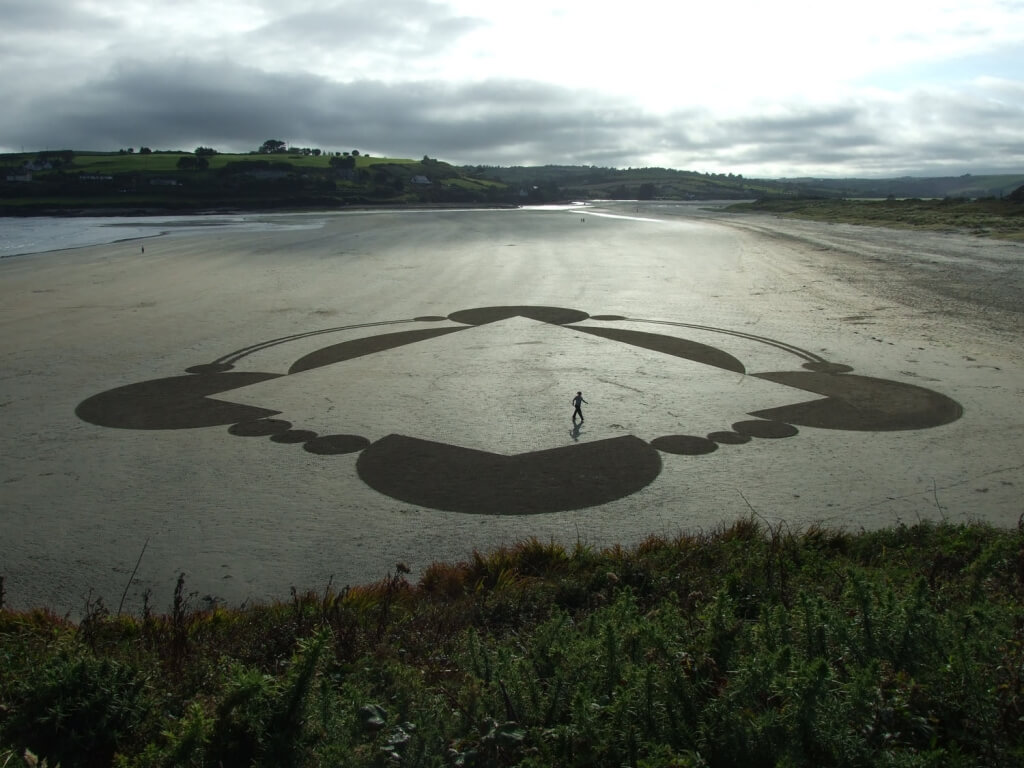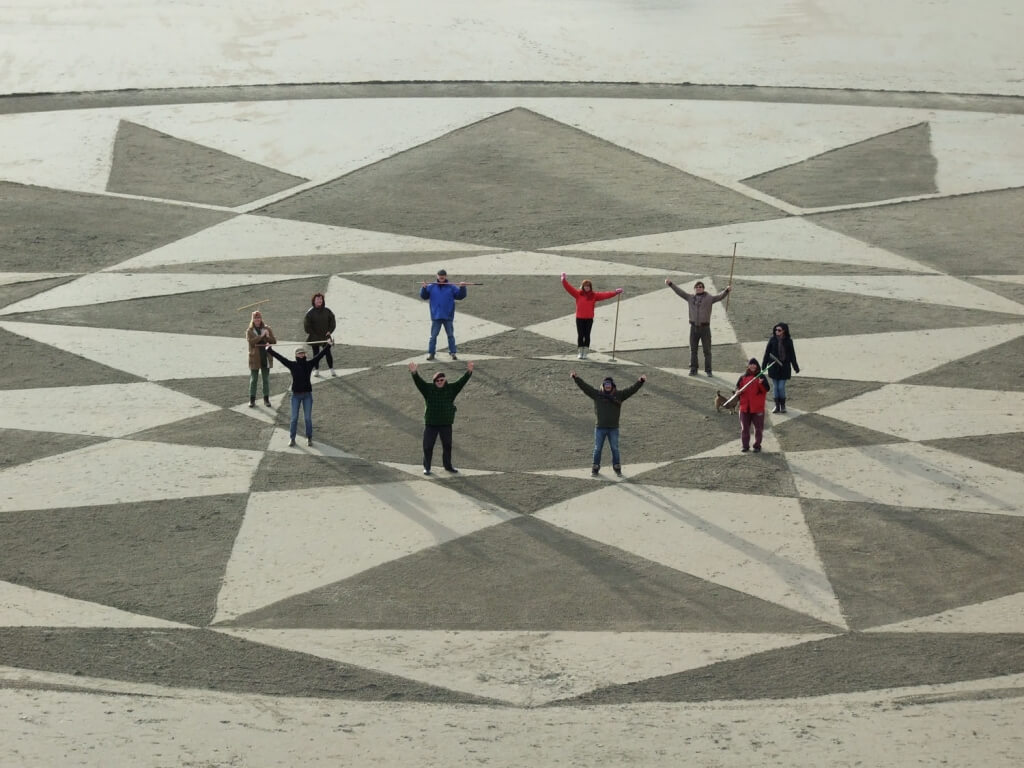 Unlike sand sculptors, who congregate for international festivals and participate in competitions, the West Cork Sand Circles group and other sand artists like them tend to create new works when and where it suits them – so long as the tides are right. Facebook events and pages seem to be the best way to keep track of planned and impromptu sand art events.
Follow a sand artist or sand art group near you on Facebook to witness the creation of a new beach "painting," but be quick – the canvas will be blank again as soon as the next high tide rolls in!
Visit sandcircles.org or follow them on Facebook
What's your take on the ephemeral nature of sand art?