';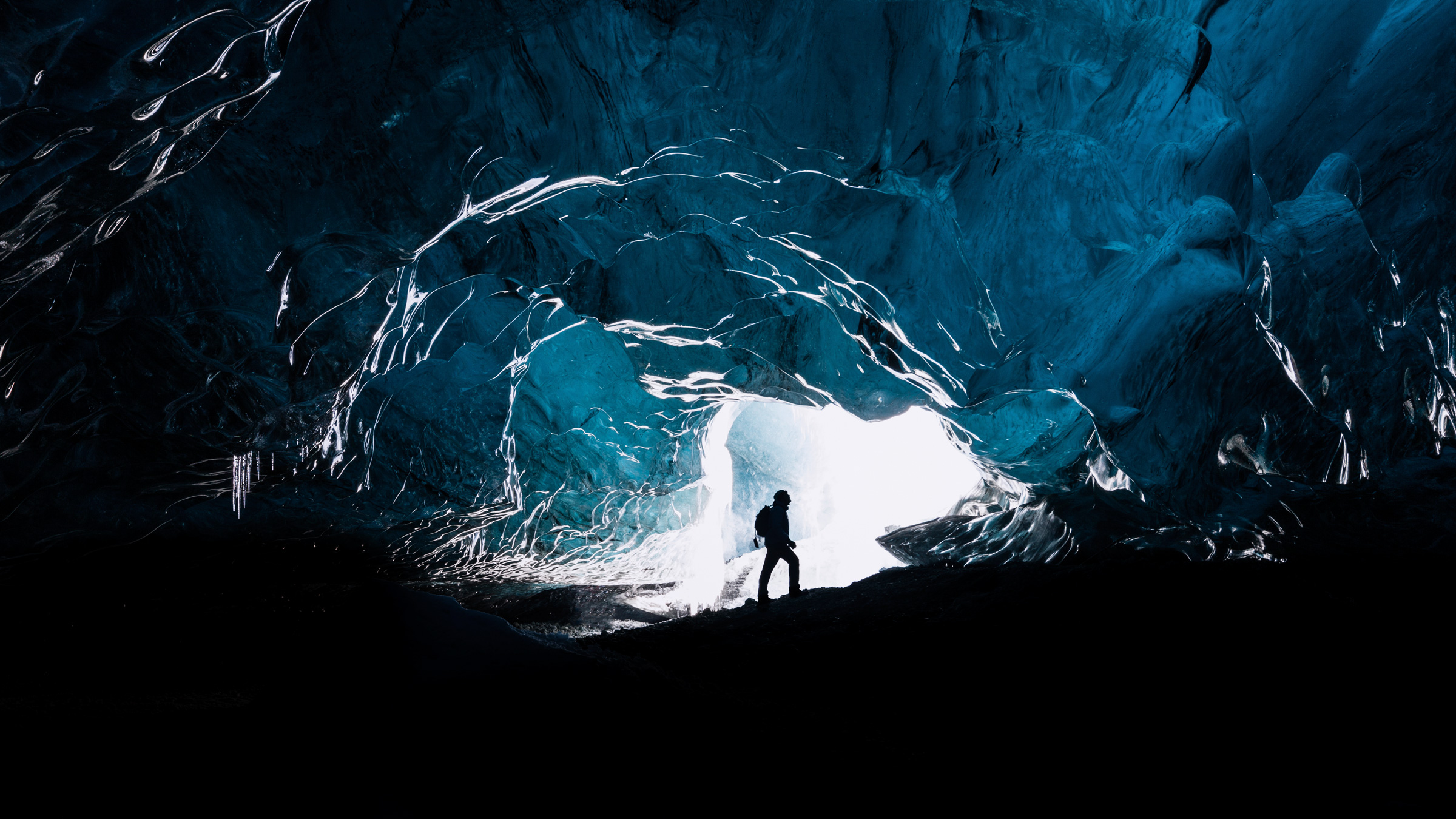 ;
Extreme athletes and medal winners ascend physical and figurative peaks that we mere mortals can only dream of. While most of us will never swim across an Arctic lake, climb Mt Everest at pension age or know what it's like to mount the podium draped in Olympic gold, there is still a potentially far fitter self within all of us. Those who push their bodies to feats above and beyond share tips on how to raise your game back at home.
Who: Sebastian Copeland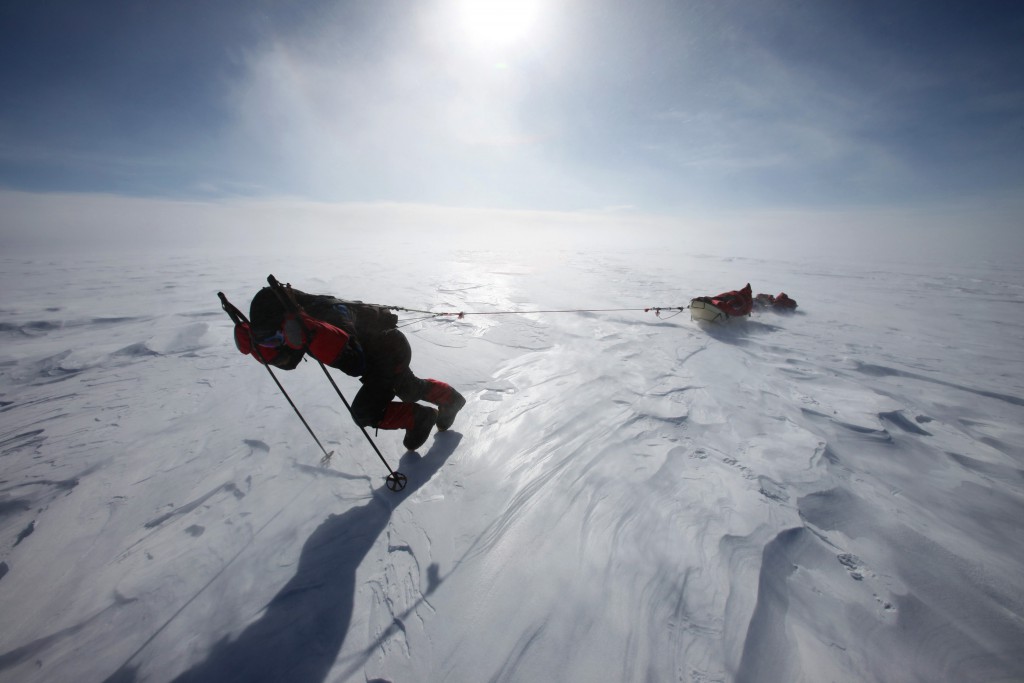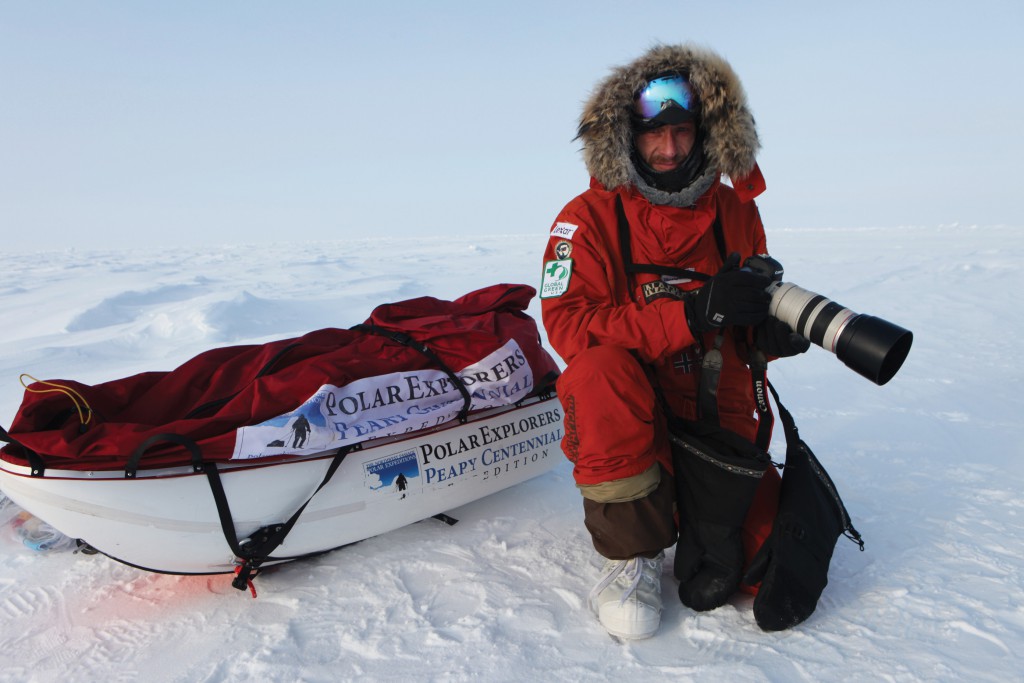 What: Polar explorer, photographer, environmental activist and extreme athlete who holds, along with partner Eric McNair Landry, several kite skiing world records — including one in Greenland for covering the most distance in 24 hours, and three more while hauling 180 kilograms of supplies across Antarctica with no assistance and no motorised means of travel. Copeland's documentary of his 2009 North Pole expedition, Into the Cold, aired at the Tribeca Festival in 2010.
Why: "As a kid I always had an adrenaline addiction, and I was on skis and sailing by three. Early conditioning to cold and liquid elements broke down the barriers for big surf, diving and long distance swimming later. Barrelling down a mountain at top speed has never frightened me."
Get An Athletic Mindset: "We all have the ability to rise above our innate cognitive and neuromuscular responses by applying discipline — which is what defines the serious athlete. The biggest challenge is not physical; it's mental. It's psychological strength that prepares me for Arctic regions 40 degrees below. A tough regimen will cultivate a higher sense of self; pushing past the threshold of pain and what you thought were your limitations will empower you, too."
Set Gradual Goals: "Progressing to each next goal reinforces that you're not a quitter. Each step up the ladder makes quitting harder — everything before would have all been for nothing. Take a cold shower before and after training to break those barriers further and toughen up; internally you are earning your stripes and acknowledging you are ready, willing and able to be a 'peaceful warrior'."
Core Train: "Combine cardio, weights and tough core training in the abdominal glutes and upper legs. Try 45-degree climbing on a 'Jacob's Ladder' machine and a plank position exercise, where you lift one hand and the alternate leg, then swap."
Add a Weight Vest: "I wear a 100-pound [45 kilogram] weight vest (the extreme) and hike through hills — it's pretty miserable! Wear this on walks outdoors or on a StairMaster at the gym (try 30 pounds [14 kilograms]) to work glutes, thighs, hamstrings and to really engage your core. It's also a great mental exercise; you'll learn to push through the unpleasant — something I call on when pulling a sledge with 450 pounds across uneven terrain in Antarctica."
sebastiancopelandadventures.com
Who: Michael Klim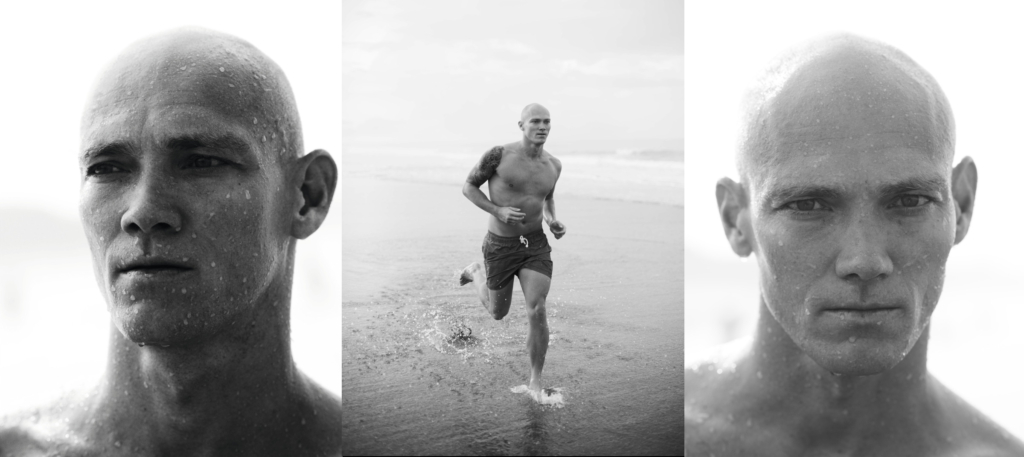 What: Six-time Olympic swimming medalist for Australia. Klim set world records left and right at the height of his career, in the 100m butterfly, 4x100m freestyle relay and 4x200m freestyle relay.
Why: "My strong sense of purpose and dedication to the sport was fostered by a childhood spent moving around the world. I identified swimming as the constant in my life, no matter where I lived or the language people spoke. An Olympic win is euphoric, something I struggle to describe in words. After many years of hard work and perseverance, relief, joy and feelings of invincibility flood in; the adulation and great sense of achievement follows. Many athletes struggle in life after sport to relive those highs."
Form A Team: "Most successful athletes work in a squad or a team designed to help them achieve their goals. Lean on the moral support of a workout buddy and use classic athletic resources — trainers, physiotherapists and dieticians — for better results."
The 30 Minute Session: "Elite swimmers like James Magnussen and Cameron MacEvoy have all developed higher intensity, 30-minute training regimes, with no wasted strokes or laps. Shorter workouts allow more focus on quality, intensity and control. Doing short sprints with rest in between is more effective than swimming for 30 minutes straight, when strokes get lazier. Three sessions a week is great for maintenance."
Mix It Up: "Mix swimming, running, cycling and circuit group training so you never get bored, as you challenge your body with varied exercises."
Build Mental Strength: "Being prepared to fail while persevering through tough goals is key. 'Control the controllables' and don't sweat over the things you cannot control. For true fitness, come outside your comfort zone in exercise: you'll be surprised how strong the human mind can be. And nothing beats the risk vs. reward ratio."
Who: Lewis Pugh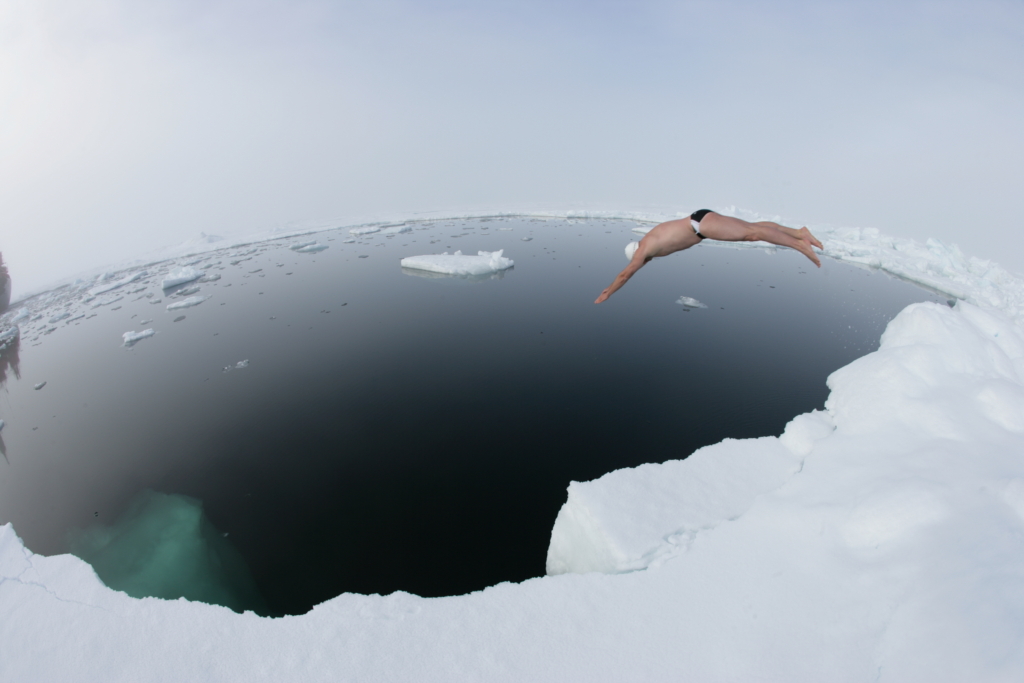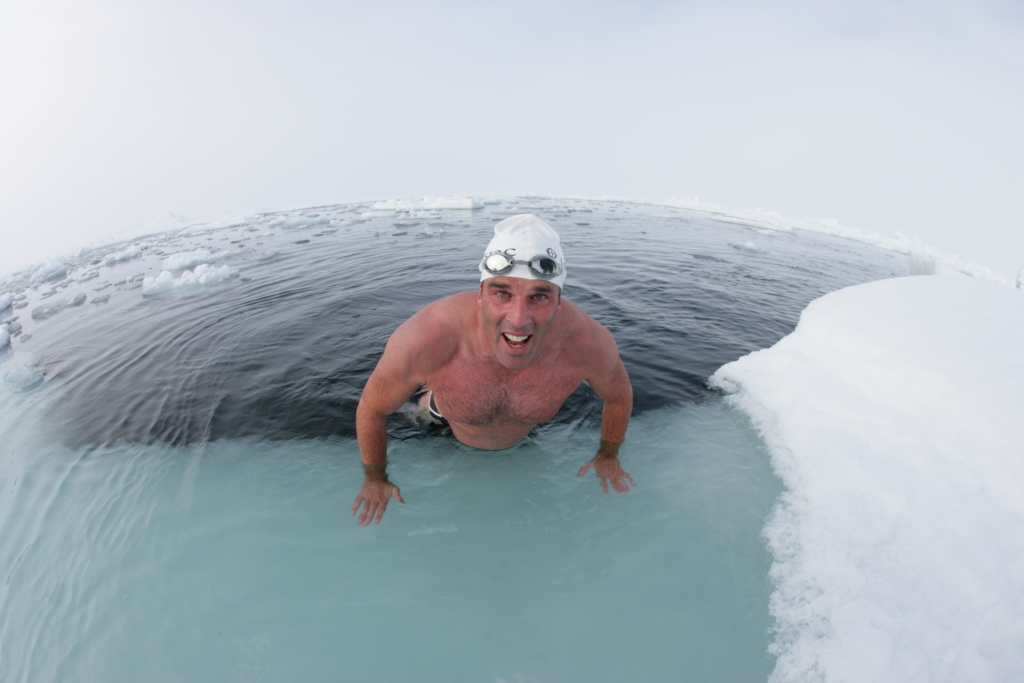 What: A man who takes endurance swimming to its extreme, Pugh was the first to complete long-distance swims in every ocean, the first to swim across the North Pole and the first to long-distance swim each of the seven seas, as well as the undertaker of the highest swim ever completed — across a glacial lake on Mt Everest — all in the name of protecting and preserving the planet's marine environments.
Why: "The world seems perfect as soon as I dive into the ocean. My first long distance swim (7km) was from Robben Island to Cape Town at 17. I was hooked! Now I swim to draw attention to the state of our oceans and get them protected."
Finish No Matter What: "On my first long-distance ocean swim, the water was around 17ºC and I struggled through the third hour, so I switched to swimming breaststroke. Adapt and do whatever it takes to get to the finish line. Most battles are only won in the 11th hour."
Perfect Your Technique: "You can never spend too much time on it. I always tell young swimmers: 'Practice things until you can't get them wrong. Not until you get them right.' There's a big difference."
Keep It Simple: "Weight training and sprinting is one of the best ways to get fit. Push-ups are a superb exercise. They can be done anywhere, anytime. You can never do enough!"
Break It Down: "I ask myself, 'Lewis can you take another 100 strokes?' When they are up, I try and take another 100. Eventually I get to the other shore."
Work Out With Someone Inspiring: "A great trainer or partner makes good judgment calls and keeps you going when you are exhausted. You simply can't let them down."
Who: Sir Ranulph Fiennes, OBE

What: The Guinness Book of World Records calls Fiennes "the world's greatest living explorer" — a fitting title for a man who journeyed on the world's only land-based circumnavigation of the globe on its polar axis, was the first to traverse Antarctica without support, ran 7 marathons in 7 days on 7 continents (4 months after double bypass surgery), climbed Mt Everest at the age of 65, and self-amputated his own frost-bitten fingers.
Why: "I was an army man, but it all began in 1972 when my late wife Ginny decided that we should launch the first circumnavigation of the circumpolar surface of the earth."
It's All In Your Head: "Well-muscled endurance physiques are better for our polar man-haul challenges than long-legged lean types. But the strong willpower and self-discipline required come in all shapes, sexes and sizes."
Stay Flexible: "Fitness is within everyone's reach. I swear by 20 minutes of stretching and strength exercises every morning, and 3 2-hour cross-country runs each week. Stretching becomes the most important thing by 60."
Do What You Can, When You Can: "Pre-expedition I would use a body harness to drag lorry tyres across country. Even when in the office, off duty, you can lift dumbbells in between phone calls."
Article by Guest Editor Cleo Glyde
Most of us aim to live a fitter, healthier lifestyle, but how easy is it really?