';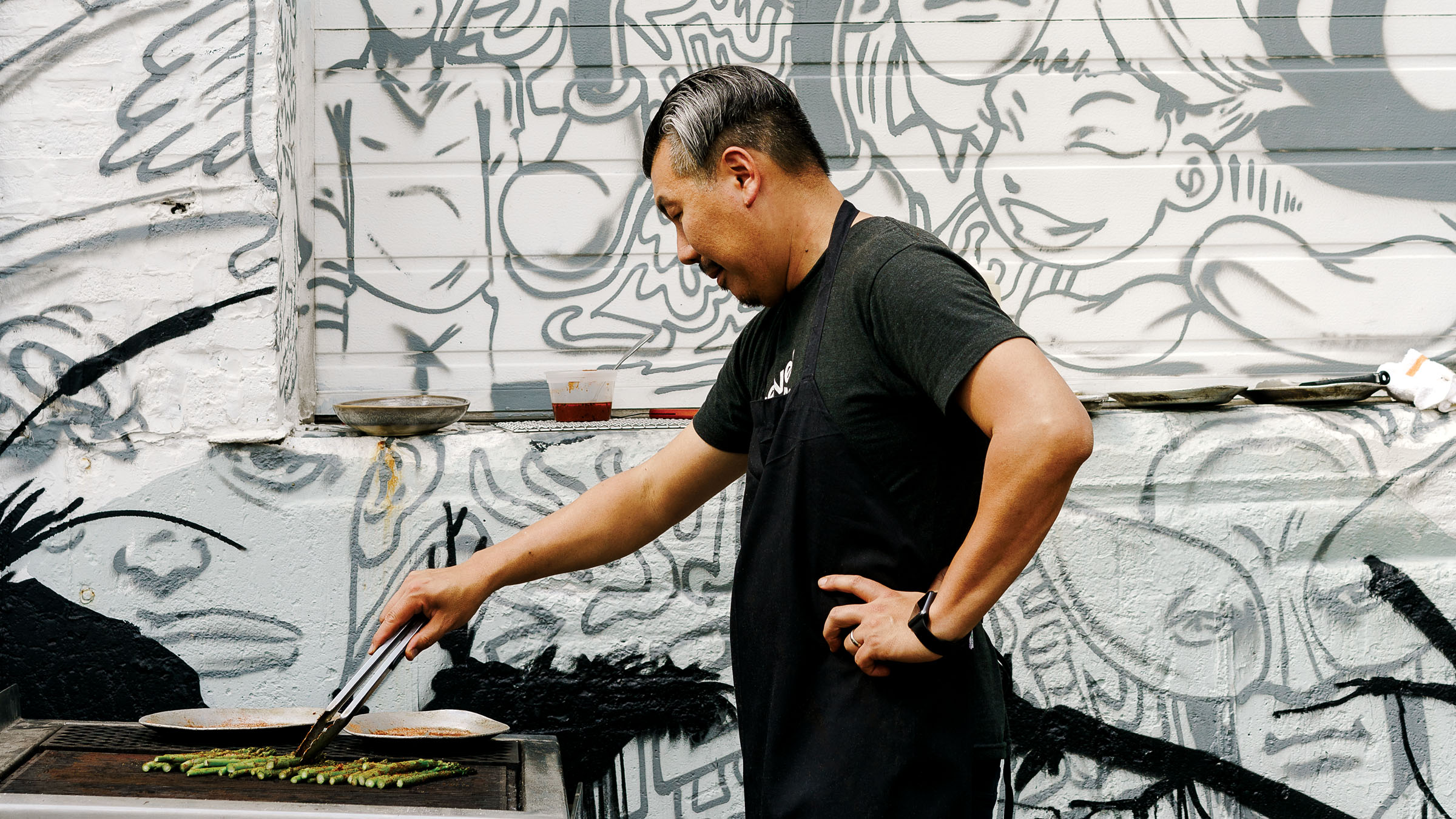 ;
Chef Bill Kim's take on barbecue has always been a border-blurring one. His Korean background (he was born in Seoul), his Midwestern upbringing (the Kim family moved to Chicago's Northwest's Side when Bill was seven), his French culinary training and his Puerto Rican wife and in-laws have all greatly influenced his personal cooking style.
Having gotten his start in classical fine French cuisine, Kim moved on to more casual dining with the 2008 opening of his communal-seating restaurant urbanbelly in Chicago. He also ran restaurants Belly Shack, a mash-up between Korean and Puerto Rican cuisines, and BellyQ, whose menu borrowed freely from global barbecue traditions. Kim's first cookbook, Korean BBQ: Master Your Grill in Seven Sauces, came out in 2018. The book isn't about Korean BBQ in the traditional sense – grilling marinated meats, often on grills built into the dining table – but rather about mastering Korean-inspired sauces and seasonings, as well as having fun gathering around the grill.
AMEX ESSENTIALS: What, to you, is the essence of gogi-gu-i, or Korean BBQ?
Bill Kim: The core of K-BBQ is using some sort of live fire to get the best result and flavour, as well as using a marinade to help deepen the taste of the meat.
How do you take this essence and use it for your own interpretation of Korean BBQ?
We use a variety of forms of fire, either with wood, gas or electric. Then we want to create layers of different flavours, by using both Korean flavours and ingredients, as well as what's around us from different cultures. For example, I like using ingredients from Mexican markets around where we live in the Pilsen neighbourhood of Chicago. I like clean flavours with textural differences, such as kimchi salsa or pickled green papaya, or I'd make a marinade out of vinegar instead of fruit to help tenderise the protein.
In Korea, there are the rituals around preparing and eating barbecue. Which ones do you follow, and what are some of your own rituals? 
My wife Yvonne and I are simple with how we prepare our Korean BBQ at home. We'd usually start with some kind of crispy salad, for example with cucumber, Korean chili flakes, onion, chickpeas and a lemon dressing. We'd continue with gluten-free Korean BBQ-marinated chicken thighs – my wife is gluten-free and stopped eating red meat a long time ago! – served with sautéed asparagus with garlic and capers.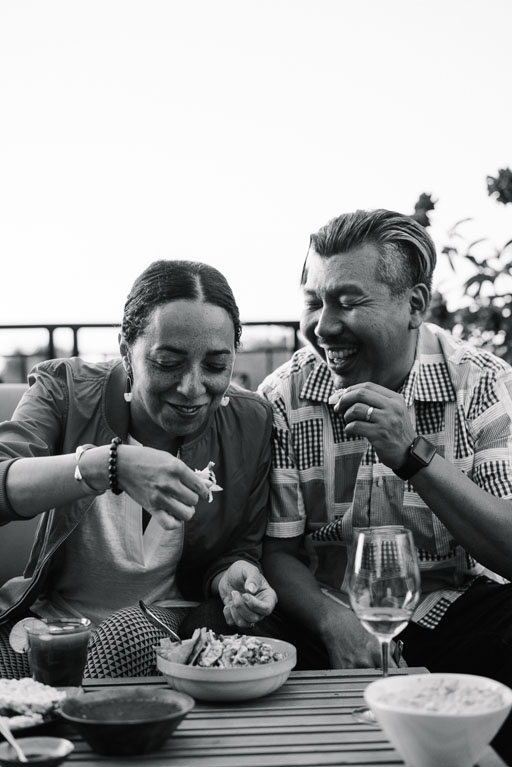 We use a variety of forms of fire, either with wood, gas or electric. Then we want to create layers of different flavours, by using both Korean flavours and ingredients, as well as what's around us from different cultures.
In your book, you tell people to grill 'Kung Fu'-style. What do you mean by that?
I'm a great admirer of Bruce Lee – not because of his fighting technique, but for his philosophy about life. 'Kung fu'-style in my cookbook means getting to a level where you have mastered some fundamental sauces and are able to spin off of them. This way, you can create your own way of doing Korean BBQ by using some of the techniques that you have learned. This is reflected in Bruce's quote on his philosophy: "Don't get set into one form, adapt it and build your own. Let it grow, be like water, be formless, shapeless like water."
When you go to a traditional Korean barbecue restaurant, you get a lot of banchan, little snacks and sides to go along with the grilled meats. What's the role of banchan for your Korean BBQ at home? 
In a traditional household, banchan is definitely a big part of the experience of having Korean BBQ. In our home, we like to change it up a bit – instead of banchan, we make kimchi salsa, an avocado and cucumber salad, and use leaves of cilantro and mint as a flavourful garnish. We live close to a tortilla factory, so we buy fresh tortillas to eat with our Korean BBQ. My wife is Puerto Rican, so we often refer to our style as 'Korican', which combines our cultures.
What are some essential ingredients for a traditional Korean BBQ pantry?
You definitely need soy sauce, dark brown sugar and toasted sesame oil for your sauces. I use gluten-free tamari, the original Japanese soy sauce, which is darker in colour and richer in flavour than regular soy sauce. Dark brown sugar gives deep, complex flavours and sweetness, and I use toasted sesame oil as a flavour accent.
And what about the surprising, non-traditional ingredients you often use?
I love to use chopped lemongrass in marinades. With its subtle aroma, it adds brightness rather than a citrus flavour to a dish. Canned chili adobo is wonderful for adding subtle spice and smokiness.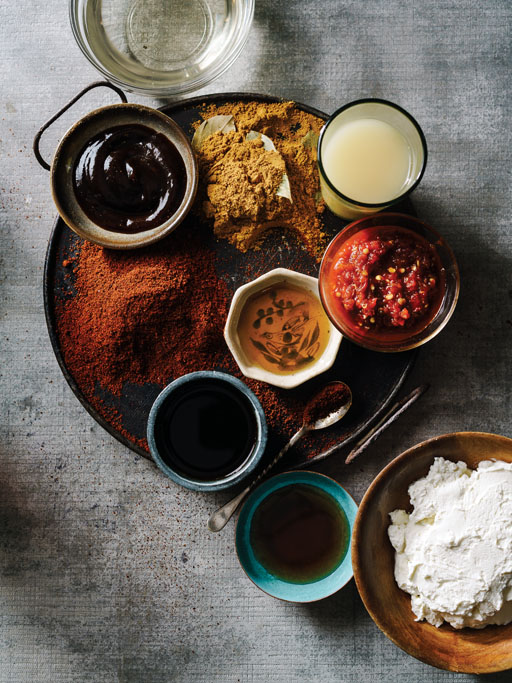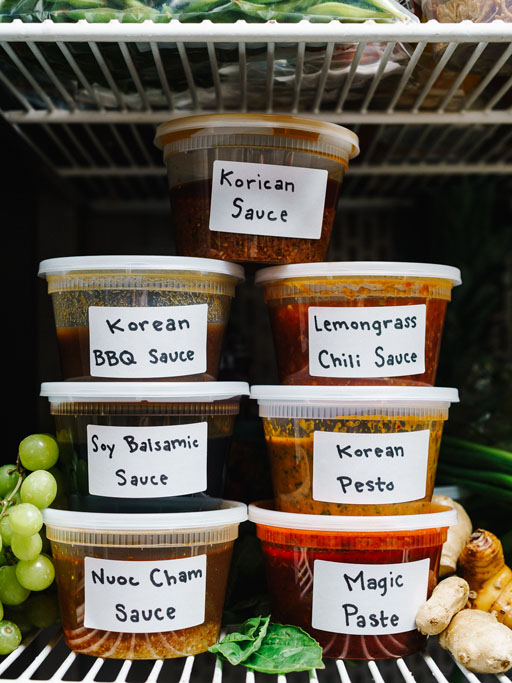 Traditional Korean BBQ is all about meat, but how can it be adjusted for non-meat-eaters? What are some of the vegetables and sauces you recommend?
Korean BBQ-marinated cauliflower is a must! I use Asian giardiniera. The same idea works well for extra-firm tofu with kimchi-basil pesto or sizzling portobello mushrooms with a chimichurri sauce.
You've shared with us your own recipe for Korean Pesto (see it here), which was featured in your book. Can you tell us more about this unusual condiment?
I know you're wondering what pesto has to do with Korean barbecue. But pesto doesn't have to be exclusive to Italian cooking: it's just a combination of nuts, oil, herbs and other ingredients, and it can be used in anything from a dipping sauce to a soup to a marinade. So I took Asian versions of these ingredients – like kimchi instead of cheese, for a little fermented element – and created a similarly balanced sauce that is distinctly Korean. It adds intensity and will elevate the flavours in your food.
Get the recipe here.
[Photos: © Johnny Autry]