';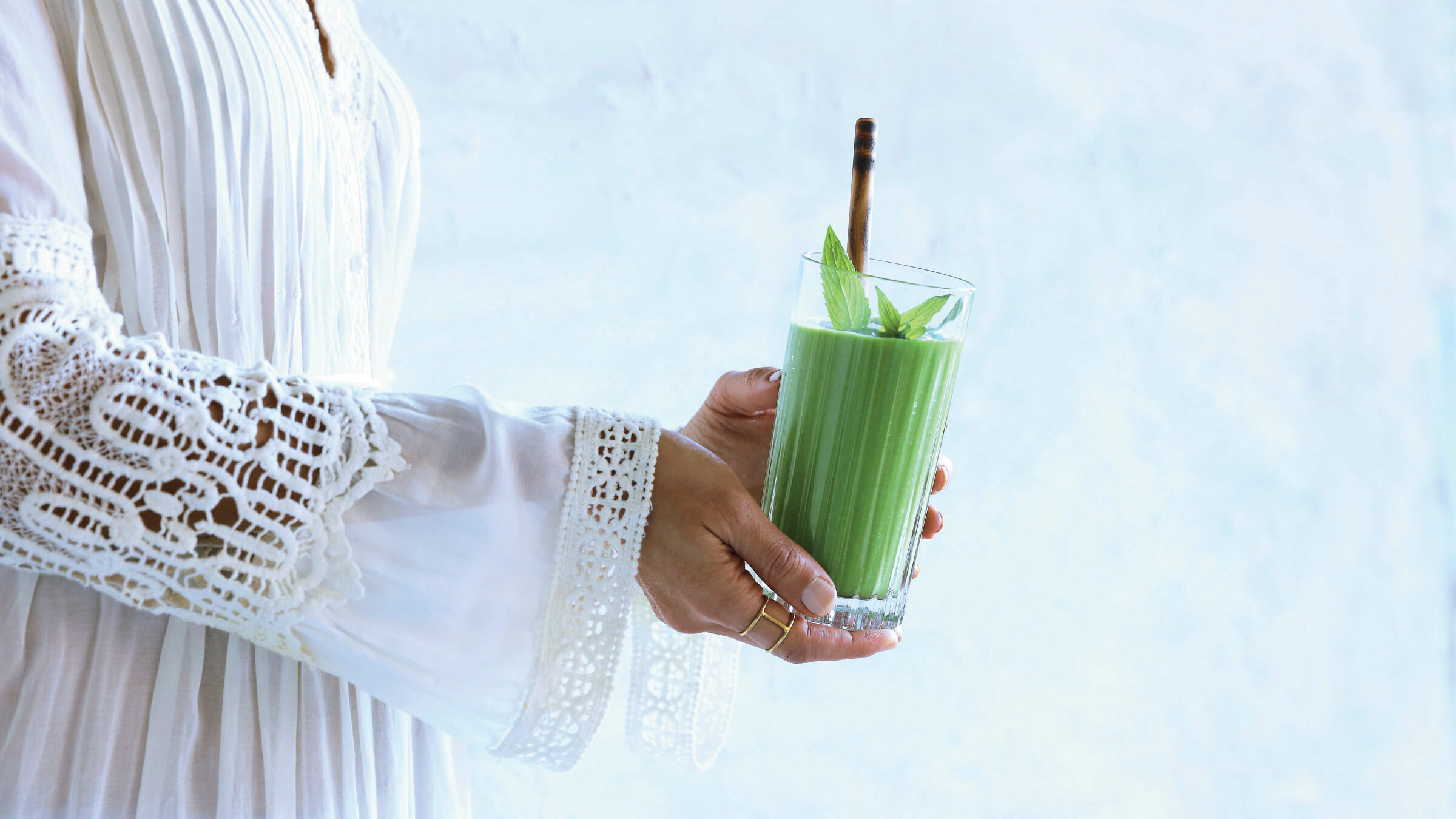 ;
Whether you want to give your health a boost, cure your summer bash hangover, or just feel like indulging in a refreshing treat: these smoothies are pure summer joy in a glass.
The Superfood Smoothie For Glowing Skin – Taline Gabrielian of Hippie Lane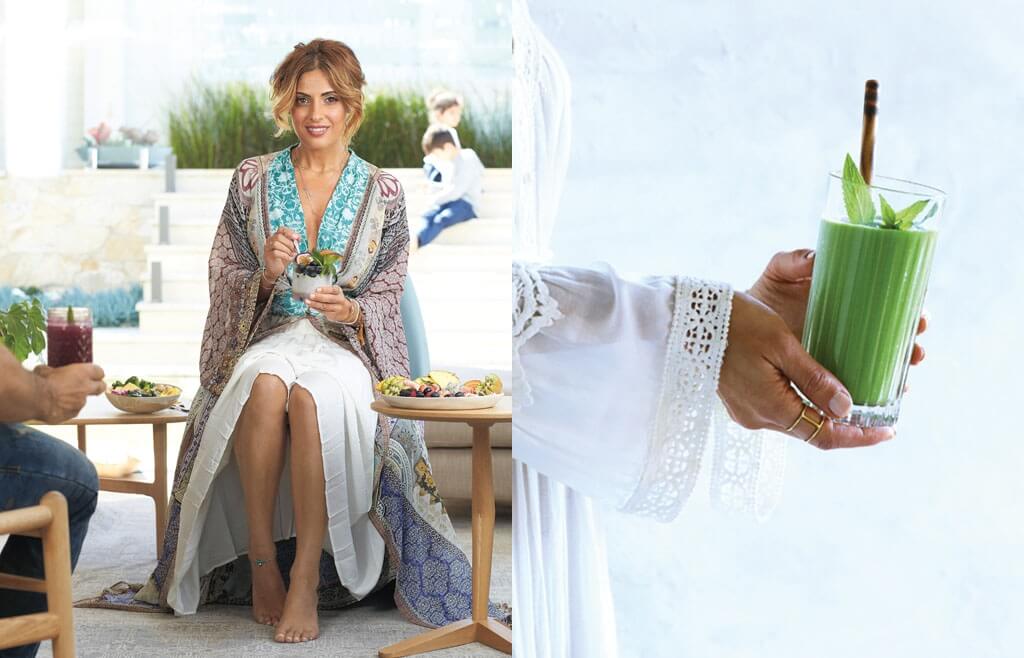 "I wouldn't call myself the green smoothie type. Let's just say I prefer chocolate – but you knew that already…" Sound familiar? Taline Gabrielian of Hippie Lane proves it's possible to find a balance between health nut and gourmand. Fast becoming a foodie rock star with her hippie-chic aesthetic, the Sydney-based mother of two has an Instagram following of more than 450k fans who await her tips on food and health. This recipe in particular just might turn you into one of those 'daily green smoothie' healthies – and it's great for your skin, too. "My fave green smoothie has all that you need for glory skin: lime, avocado, ginger, cucumber and leafy greens," says Taline. "Nourishing, tasty and beauty-boosting – the right combination."
Super Green Smoothie
50g (1¾ oz/1 cup) mixed green veggie leaves, such as spinach, rocket (arugula) and kale
½ Lebanese (short) cucumber, roughly chopped
1 celery stalk, chopped
1 cm (½ inch) knob of fresh ginger
Flesh of ¼ avocado
Juice of 1 lime
A handful of green grapes
2 tablespoons coconut yoghurt
125–250 ml (4–9 fl oz/½–1 cup) coconut water
2 ice cubes
Place all the ingredients in a high-speed blender and whiz until smooth. Pour into your glass and enjoy straightaway. For a sweeter option, add some pineapple and use just 125 ml (4 fl oz/½ cup) coconut water.

(serves 1)
[Images and recipes from Hippie Lane: The Cookbook by Taline Gabrielian (Murdoch Books]

The 'Ultimate Hangover Cure' Smoothie – Alex Gabriel of French Guy Cooking
Alex "French Guy Cooking" shares one of the detoxing smoothies that he created together with culinary personality Donal Skehan. It includes pineapple, cucumber and cashew nuts, the perfect combination for the morning after you've had a little too much fun at that summer barbecue. "It's quite an unusual combo," Alex says. "But it's always good to step out of your comfort zone."
Pineapple, Cashew And Cucumber Smoothie
1/3 cup cashew nuts
1 cup pineapple juice
1 cup frozen pineapple chunks
1 cup of cucumber, roughly chopped
5 sprigs of coriander
Slice of lime
Salt
In a blender, blitz up cashew nuts along with pineapple juice until you get a smooth and silky texture. Then, add frozen pineapple chunks and cucumber. Add coriander sprigs, a squeeze of lime juice, and a tiny touch of salt. Enjoy.
The 'I Can't Believe It's Not Ice Cream' Smoothie – Julie Morris
Tucked beneath a very convincing ice cream-like flavour, a wealth of beneficial spinach awaits you in this smoothie. We owe this sneaky health food to the genius of LA-based natural foods chef, on-camera personality and New York Times best-selling cookbook author Julie Morris. "It's so good it almost makes a person wonder why spinach isn't used in all minty treats," she says. "I love how the cacao nibs provide a bit of dark-chocolate crunch without being overpowering."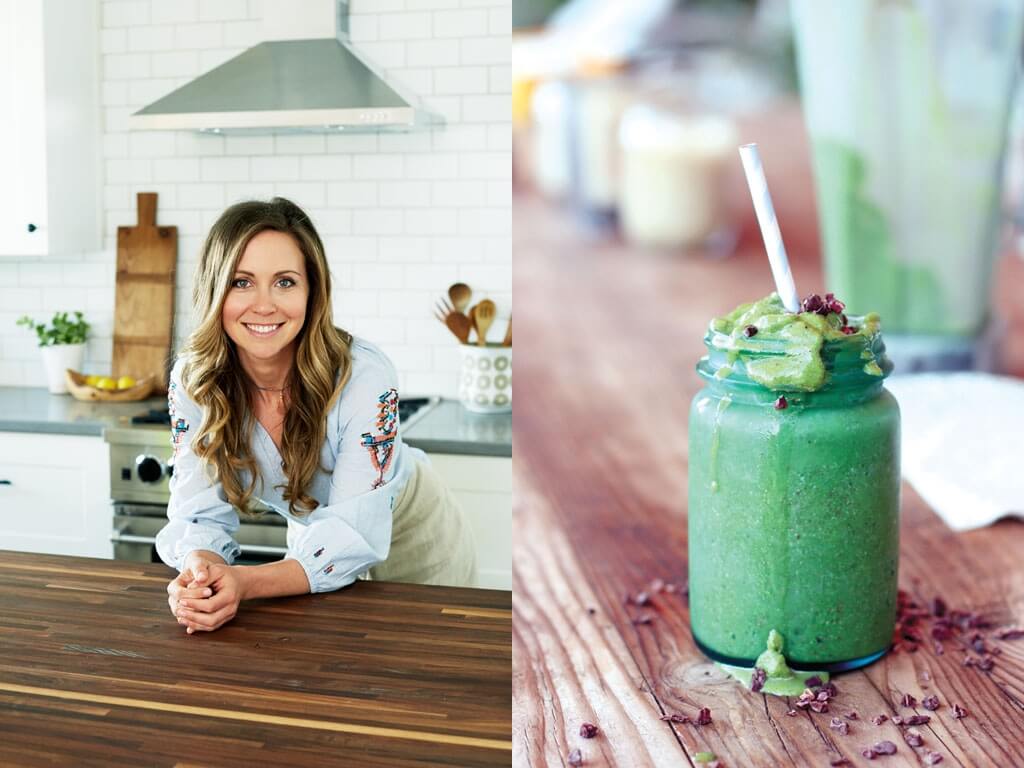 Mint Chip Smoothie
2 cups frozen spinach
2 cups frozen bananas
1⁄4 cup raw cashews
3 tablespoons cacao nibs
2 tablespoons (packed) fresh mint leaves, minced
1 teaspoon vanilla extract
2 cups rice milk (unsweetened)
1⁄2 cup coconut water
Stevia or sweetener of choice, to taste (optional)
(Makes 2 18-ounce/500-ml servings)
Blend all the ingredients together until smooth. Taste, and sweeten as desired.
Superfood Boost: Add 1/4 teaspoon chlorella (or to taste).
[Reprinted with permission from Superfood Smoothies  © 2013 by Julie Morris, Sterling Publishing Co., Inc. Photography by Julie Morris (smoothie) Photography by Oliver Barth (headshot)]
The Smoothie That Kids Will Go Bananas For – Melissa Wallace of Wholesome Daily
Another of Instagram's smoothie goddesses, Melissa Wallace of Wholesome Daily posts pics of her beautiful, delicious and healthy creations each day, along with snapshots of her family life by the beach in Australia; inspiration from her ocean/surf/travel lifestyle has attracted 61.4k followers on Instagram. This cherry and coconut smoothie is a hit with her kids – and most likely yours, too.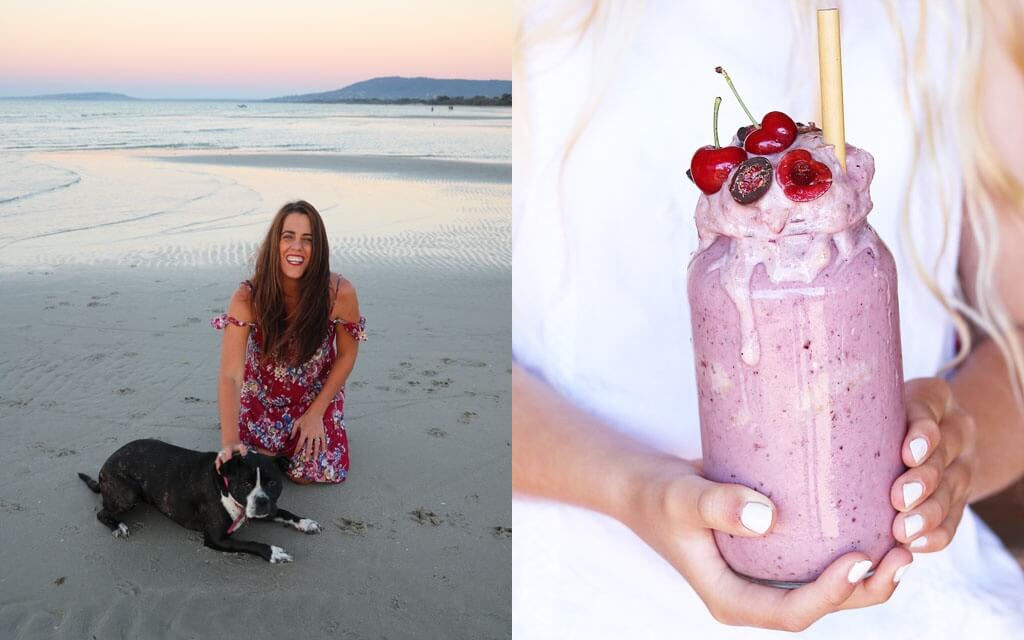 Cherry Coconut Banana Smoothie
3-4 frozen bananas
1 cup coconut water
1/4 cup of coconut milk
1 1/2 cups of fresh pitted cherries
Handful of ice for extra chill
Combine all ingredients in a high speed blender until you reach a smooth consistency.
The Stress-Busting Berry Smoothie – Emma Swanston of Better With Cake
Untrue to its decadent name reminiscent of lazy beach holidays, this smoothie means pure, totally guilt-free indulgence. Creator Emma Swanston of Better With Cake calls it one "natural, light, fresh, subtly sweet, seriously healthy, creamy, dreamy smoothie." A woman with many talents, Emma is a wife, mama, personal trainer and certified health and nutrition coach who has a passion for strong coffee, heavy weights, dark chocolate and nut butter.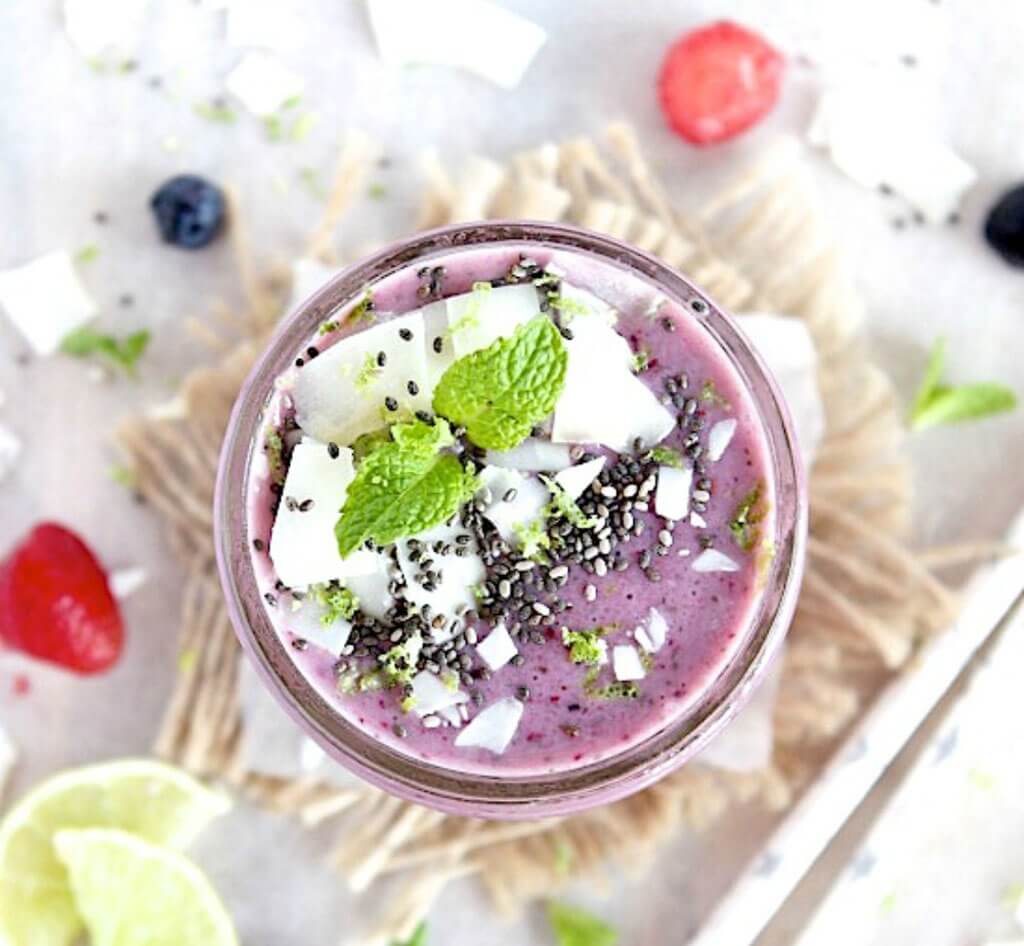 Berry, Mint And Lime Mojito Smoothie
1/3 cup coconut or Greek style yogurt
2/3 cup unsweetened vanilla almond milk (or milk of choice)
1/2 an overripe banana (preferably pre-frozen)
1/2 cup of frozen mixed berries – I used a combination of blueberries, raspberries, strawberries and blackberries
1 tablespoon of fresh mint leaves, firmly packed – about 10 large leaves
1 teaspoon of freshly grated lime zest
1 teaspoon of vanilla (or 4-6 drops of vanilla cream stevia – I like to use Sweet Leaf Stevia )
1/4-1/2  cup of ice – more or less to desired consistency
Optional, but recommended for serving:
Coconut flakes
Chia seeds
Fresh mint
Lime zest
Place all smoothie ingredients into your food processor and process until smooth, creamy and well combined. Pour into a chilled glass or mason jar, then top with coconut flakes, chia seeds, a sprig or two of fresh mint and a sprinkling of lime zest, if desired.
Note: You could also add in a scoop of protein powder (vanilla or unflavoured would work best in this recipe) and some powdered gelatin for an extra boost of protein, if you're into that kind of thing.
Article by Irene de Vette
The sun is out, the temperature's rising. Are you more likely to make smoothies in summer?